Switch: Volume 2
By Leroy Douresseaux
May 15, 2008 - 06:48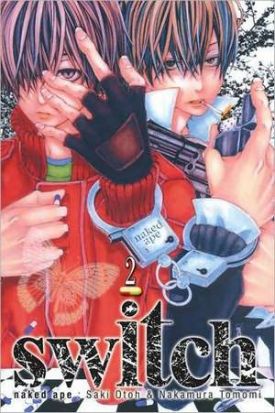 Thanks to barnesandnoble.com for the image.
Rated "T+" for "Older Teen"
Kai Eto is the squeaky clean new narcotics investigator who hides a violent alter ego and a dark past, and Hal Kurabayashi is his stoic new partner. Together, they work for the Greater Kanto Narcotics Squad Division.
In Switch, Vol. 2, Kai and Hal are still on the case of the hot street drug, Dragon Speed, a powerful stimulant trafficked by the Ryugen syndicate, a Chinese drug smuggling ring. Kai is working undercover as an assistant to Kyoya Shirai, a popular actor/model and Dragon Speed addict. The NSD (Narcotics Squad Division) has discovered that Sawaki, a mysterious Ryugen figure, has turned Shirai into an unofficial spokesperson for DS (Dragon Speed). In order for Kai and Hal to discover the entire story behind Shirai, Sawaki, and the Ryugen, they may have to face certain death.
THE LOWDOWN: The creative team Naked Ape is actually the female manga-ka duo: writer Saki Otoh and artist Nakamura Tomomi. Perhaps, being young women is why their crime drama, Switch, is more stylish than hardboiled, and it's still a work in progress. Right now, it's more style than substance and the creators certainly need aging – at least, in regards to this series.
Switch certainly is edgy and cutthroat. Nakamura draws the eyes of the characters in a way that makes them look dead and their owners strung out or menacing and deadly. Those eyes are the windows to the souls of the characters, but they also speak to the soul of this comic. Switch portrays a crazy, sexy world of drugs run amok. It's a place where life is cheap, and people crave your flesh, blood, and spirit as much as they do a narcotic high.
POSSIBLE AUDIENCE: This mean little manga, Switch, looks like a slickly-produced fashion show, but its dark tone and sinister settings make it appropriate for, at a minimum, the high school age reader.
B-
Last Updated: September 6, 2021 - 08:15