Switch: Volume 1
By Leroy Douresseaux
March 10, 2008 - 13:47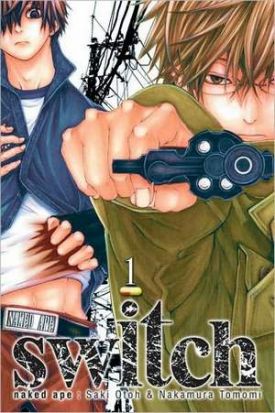 Thanks to barnesandnoble.com for the cover.
Kai Eto is the squeaky clean new investigator for the Greater Kanto Narcotics Squad, but he hides a violent alter ego and a dark past. His stoic partner is Hal Kurabayashi, and he's not interested in having a new partner. But he gets him Kai anyway, and the two rush headlong into the an investigation of the hot street drug, Dragon Speed. It's a powerful stimulant trafficked by the Ryugen syndicate.
Greater Kanto is also in the middle of a jurisdictional squabble with their rivals, the Meguro Police. Kai and Hal have a habit of running into Meguro's star veteran detective, Akimune Narita, or is it that he has a habit of running into them? When the young duo infiltrates the world of a popular model/actor, Kyoya Shirai, Kai and Hal hope to find out if Shirai is a Dragon Speed addict. What they find is people willing to kill them.
THE LOWDOWN: The duo that calls itself Naked Ape, female manga-ka Saki Otoh (writer) and Nakamura Tomomi (artist), may be new to the game, but their manga series, Switch, is not only an edgy police drama, it's also simply a ruthless drama. Any crime drama scenario in which a police rivalry comes across as tame and comic compared to the rest of the subplots is scary.
The major complaint about Switch at this point is the rawness and lack of polish on the part of the creators. Otoh's script is full of starts and stops and constant bumps and dry spells. As for Tomomi's art: there is faulty composition, perspective, and amateurish character drawing. The talent is there, but execution fades in favor of a wild style built on crazy angles and screwy close-ups.
POSSIBLE AUDIENCE: As Naked Ape gets more pages behind them, Switch will become a kick-ass treat for fans of crime dramas.
B-
Last Updated: September 6, 2021 - 08:15