Sweet Rein: Volume 3 manga review
By Leroy Douresseaux
July 6, 2014 - 09:13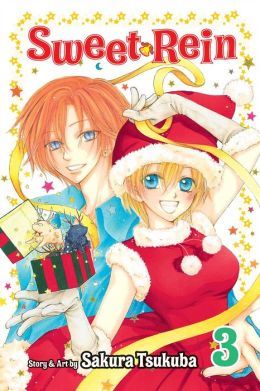 Sweet Rein: Volume 3 cover image is courtesy of barnesandnoble.com.
Follow me on Twitter.
Rated "T" for "Teen"
There is more than one person that takes on the role of Santa Claus. Each Santa has a magical reindeer that does whatever his Santa commands, and that reindeer can also transform into a human. Seventeen-year-old Kurumi Sagara is crossing the street when a boy bumps into her. A rein suddenly appears and binds Kurumi to the boy. Overjoyed, the boy tells her that she is a Santa Claus and that he, Kaito, is her magical reindeer.

As Sweet Rein, Vol. 3 (Chapters 9 to 12) opens, spring is in full bloom. The rein that connects Kurumi and Kaito has turned red. Kaito is in the midst of mating season, and he sparkles like a Twilight vampire (almost). That makes him highly attractive and desirable to other human females, who become susceptible to his charms. Kurumi is feeling jealous about this, but she finds herself also bewitched by Kaito.

Also, Kurumi and Kaito help a sickly boy reunite with an old friend. Plus, Kurumi meets Alto, a reindeer with a torn rein.

[This volume contains a bonus short story, "The Break of Dawn," which is set in the world of Penguin Revolution.]

THE LOWDOWN: The Sweet Rein manga sets a melancholy tone with some of the stories and characters in Sweet Rein Volume 3. Here, I thought that the series would be just too sweet and cloying the first time I read it. How could a Christmas and Christmas-themed-manga be relevant outside the last three months of the year, I wondered?

Creator Sakura Tsukuba is developing the relationship between Kurumi and Kaito, and she does not need Christmas to depict a romance that is growing from cute and sparkly to very serious. Tsukuba also knows how to bring a bit of darkness with the Alto storyline, as she shows the troubling and if not dark side of the Santa-reindeer relationship. In spite of myself, I want more Sweet Rein.

POSSIBLE AUDIENCE: Fans of magical romance will want to be tied to Sweet Rein, a Shojo Beat title.


Rating: A- /10
Last Updated: August 31, 2023 - 08:12