Sweet Rein: Volume 2 manga review
By Leroy Douresseaux
April 1, 2014 - 16:28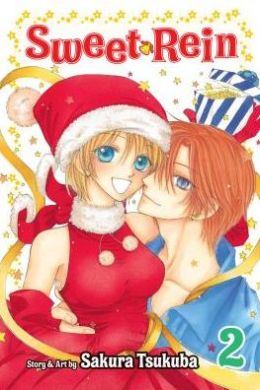 Sweet Rein Volume 2 cover image is courtesy of barnesandnoble.com.
Rated "T" for "Teen"
In the world of the shojo manga Sweet Rein, there is more than one person who takes on the role of Santa Claus. Each Santa has a magical reindeer that does whatever his Santa commands, and that reindeer can also transform into a human. Seventeen-year-old Kurumi Sagara is crossing the street when a boy bumps into her. A rein suddenly appears and binds Kurumi to the boy. Overjoyed, the boy tells her that she is a Santa Claus and that he, Kaito, is her magical reindeer.
As Sweet Rein, Vol. 2 (Chapters 4 to 7) opens, Kurumi and Kaito have been together for a year. They are enjoying summer aboard the yacht of one of Kurumi's friends, when suddenly they meet Akira, a Dark Santa. This Dark Santa is determined to break Kurumi and Kaito apart, and he even severs their rein. Now, Kurumi has to prove that she wants to be a Santa, but she wonders if Kaito is truly happy as her servant.
Next, Kaito's older brother, Rihito, does not want to be a magical reindeer like the rest of his family. He wants to remain human and to not transform into a reindeer when his Santa needs him. He's about to meet Daisuke Tateyama, a young man who is too busy working on Christmas to enjoy the holiday.
[This volume contains a bonus short story, "The Door to Eden."]
THE LOWDOWN: After reading the first volume of the Sweet Rein manga, I thought that the series would be just too sweet and cloying. Sweet Rein Volume 2 surprises me simply because it manages to be a Christmas and Christmas-theme manga that does not seem inappropriate and months late even in early spring.
Creator Sakura Tsukuba begins to focus on developing the relationship between Kurumi and Kaito. However, she brings in new master-servant (Santa-reindeer) relationships which allow her to depict and to explore different romance dynamics. Like a box full of Christmas hard candy, Tsukuba seems determined to offer her reader different flavors of love – from sweet to spicy to tart.
POSSIBLE AUDIENCE: Fans of magical romance will want to try the Shojo Beat title, Sweet Rein.
Rating: B+ /10
Last Updated: February 5, 2023 - 09:06