Sweet Rein: Volume 1 manga review
By Leroy Douresseaux
Nov 1, 2013 - 15:02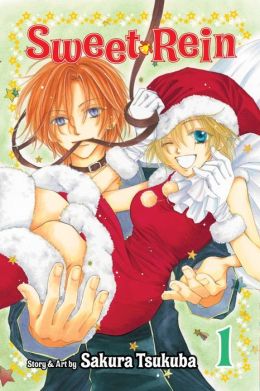 Sweet Rein Volume 1 cover image is courtesy of barnesandnoble.com.
Rated "T" for "Teen"
Sweet Rein is a shojo manga (comics for teen girls) from creator Sakura Tsukuba. In the world of Sweet Rein, numerous people take on the role of Santa Claus, dispersing gifts to a particular area. Each Santa has a magical reindeer that does whatever his Santa commands, and that reindeer can also transform into a human.
Sweet Rein, Vol. 1 (Chapters 1 to 3) introduces 17-year-old Kurumi Sagara. Since her mother died, she lives mostly alone, as her father is practically always at work. Now, Kurumi is about to experience another lonely Christmas.
One day, Kurumi is crossing the street when a boy bumps into her. A rein suddenly appears and binds Kurumi to the boy. Overjoyed, the boy tells her that his name is Kaito and that she is his master. Why? Apparently, Kurumi is a Santa Claus and Kaito is her magical reindeer.
Can she dismiss this boy as crazy, even after he transforms into a reindeer? Plus, see them help a sick boy named Mamoru Tajima.
[This volume contains a bonus short story, "Sweet Bite Mark."]
THE LOWDOWN: The Sweet Rein manga seems as if it would be just too sweet. At least, that is how it came across to me after one chapter. It is a typical shojo teen magical romance, except for the fact that it is essentially a Christmas and Christmas-themed manga. I make the distinction between Christmas and Christmas-theme because some of the chapters in Sweet Rein Volume 1 take place at Christmas time, and other parts of the narrative are about Christmas, to one extent or another and directly or indirectly.
Sweet Rein is poignant, cutesy, and even a bit weird. It is entertaining, but not great, and it remains to be seen how much potential this series has. I can't say that I would read a second volume, but, obviously I am not in the target audience for this.
POSSIBLE AUDIENCE: Fans of magical romance will want to try the Shojo Beat title, Sweet Rein.
Rating: B- /10
Last Updated: Jun 26, 2018 - 9:28