Sweet Blue Flowers: Volume 2 manga review
By Leroy Douresseaux
Jan 8, 2018 - 15:12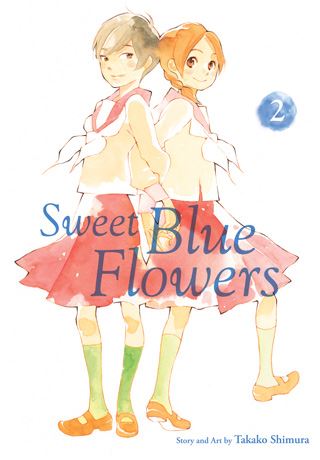 Sweet Blue Flowers Volume 2 cover image
Rated "T+" for "Older Teen"
Sweet Blue Flowers
is a yuri manga from creator
Takako Shimura
. "Yuri" is "girls' love" manga, a genre which depicts romantic situations between female characters. Sweet Blue Flowers is a coming-of-age manga that depicts love and friendship between two girls,
Akira Okudaira
and
Fumi Manjome
, attending separate high schools.
As
Sweet Blue Flowers

, Vol. 2
(Part 3: Chapters 14 to 18; Part 4: Chapters 19 to 25) begins,
Kyoko Ikumi
invites a group of her friends to join them at the summer home of her fiance,
Ko Sawanoi
's family. There is camping, ghost stories, and horseback riding, and there is time for Fumi to confirm her romantic feelings for Akira.
Later, Akira and her drama club prepare to perform a play at her high school,
Fujigaya Women's Academy High School
. Now, a freshman girl,
Haruka Ono
, wants Fumi to play a part... because she is probably in love with Fumi.
[This volume includes an afterword and the following "Little Women" bonus stories: "Kuri and Komako, Part 1," "Orie and Hinako," and Kuri and Komako, Part 2," and Shinako and Kaoruki."]
THE LOWDOWN:
I have not read many yuri manga titles. The Sweet Blue Flowers manga is the second yuri manga that I've read, following creator Yuhta Nishio's After Hours (also published in English by VIZ Media).
Sweet Blue Flowers Graphic Novel Volume 2
is, like the previous volume, filled with so many young female characters. It can be hard to keep up with them, but creator Takako Shimura makes each one so vivacious and engaging. Also, rather than be catty and completely melodramatic, the characters are full of budding romance and yearnings. Yes, this can sometimes be teen-soapy, but mostly it is full of interesting characters.
I READS YOU RECOMMENDS:
Fans of yuri and shojo romance will want to smell the
Sweet Blue Flowers
.
A
8 out of 10
Support this writer on Patreon
Last Updated: Jun 26, 2018 - 9:28