A Talk With Actress Susan Smythe
By Christopher Moshier
April 7, 2007 - 20:30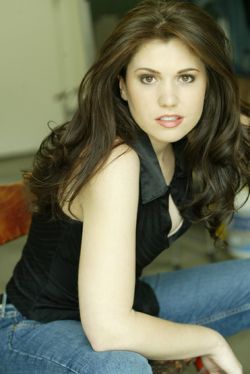 Susan Smythe

COMIC BOOK BIN (through Christopher Moshier): Can you bring us up to speed on the lives and times of Susan Smythe?

SUSAN SMYTHE: I was born and raised in Texas – though 5 different places in Texas (luckily, sans accent - though I can whip it out when I need to). After Texas and before California, I lived in Missouri and Kansas. So, yes, I've had driver's licenses in 4 states, and am a wiz at driver's tests (laughing). I lived in the country for several years and enjoyed bb guns and building forts in all the spare time that I wasn't sewing and baking and daydreaming about being Wonder Woman and Annie Oakley.

I come from two very creative, brilliant parents and have three awesome brothers. Somehow our family just finds a way to enjoy just about everything in life. From the age of 7 to 18, I was studying to become a concert pianist. Then I realized I'd rather be acting than playing piano three hours a day, though I continue to love the piano. So instead of a music conservatory, I went to college at the Theatre Conservatory at Webster University in St. Louis, Missouri, and the American Academy of Dramatic Arts/Hollywood. This is truly a testament to my parents love for me! They were supportive of the switch – even though it was AFTER we bought a grand piano!

I've been in California for about 6 years now, and have been in about 30 films and a few plays. I do vastly more films than plays, but my roots are definitely theatre. I find little in life more deliciously exciting than acting in Shakespeare on stage. My hobbies include: sewing/designing costumes, baking, volunteering/community service, shooting, boxing/martial arts, painting, writing poetry, reading classic literature and collecting swords. My vices are wine and dark chocolate. I find languages/dialects thrilling and vocabulary sexy. Basically, I'm half tomboy and half old-fashioned girl. Super low maintenance and ready for adventure!

CBB: Did you change your last name to be unique? I mean if you were a Jones would you now be a Jownes or if you were an Edwards would you now be an Ed-words? Is your full name in fact Susan Jownes Ed-words Smythe?!?

SS: Quite the contrary, actually. 'Smythe' is a simplification of my real last name, which is 'Hammre-fysted-Gold-Smythes-of-Yore". Though I enjoyed the Thor-esque beginning, I felt the simpler 'Smythe' would suffice.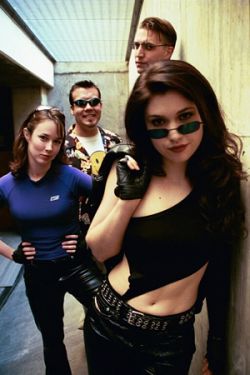 Susan Smythe with the cast of Amanda Hades

CBB: The first time I had originally seen you had been in the very last episode of the 2nd season of the online series Amanda Hades. How did you hook up with Mr. Sean, Amanda Hades, and the whole 3rd Floor crew?

SS: Well, I wouldn't say I've hooked up with the WHOLE 3rd Floor crew, Chris. Okay, (laughing) WOW! Yeah, I can't even go there as a joke. Too many cool married people, and Sean's wife could kick my butt in a heartbeat (laughing).

Uhm...yeah. That's a funny story, actually. I was acting in a short film with a very talented actor named Kevin Sage (who played a recurring character named Chance in Amanda Hades), and he mentioned that some friends of his were having a hard time finding a new lead for their web show. He gave me Sean's info, and I guess I was the last audition of the last callback day for the last round of auditions. The website looked awesome – I loved the world they had created. The audition sides and background were incredibly interesting and had a lot of depth. The people were really nice! I got a call the next morning at 8:30am saying I had the part. I'm so fortunate to have met these amazingly talented, awesome people.

CBB: What was going to be the difference between your Amanda Hades as opposed to the way Kristen Meinhold played her? How would your Amanda be different in both how the creator(s) laid it out for you and inside your own mind as an actress?

SS: That's a good question, and let me just say Kristen's were big shoes to fill! I think it's something that would have evolved past even my initial inclinations. But Sean had written quite a thorough background story for my character, Sarah/Amanda Hades. I was a bit more hardcore – would have had to be softened up a bit by the team. I had a very athletic/military background, not from anywhere nearby. There were a lot of wonderful levels to explore – I was basically alone in the world, had definitely spent some time on the wrong side of the law, and had just recently left a militant/extremist group when I joined Stinger, Troubleshooter and the rest. Aww, shucks - I'm getting sad just thinking about it!

CBB: Can I get any clue as how Amanda Hades was going to continue and the real story behind the plot points or will you ignore this question as Mr. Rourke continues to also do?

SS: Uhm, yeah. That'll be a "No comment."

CBB: Touch on Ninja Justice – that was a cool little short. Any interesting thoughts, fond memories, funny stories?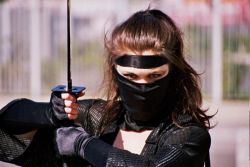 Susan Smythe is Justice

SS: I loved Ninja Justice! I'll never forget the night Sean called me and said, "I want you to be our ninja." ((sniff, sniff)) Get teary just thinking about it. Basically, we had next to no time on that one. Once again Sean and the crack team at 3rd Floor pulled together to just BANG out this awesomely fun little number. I DO have funny stories, if by "funny" you mean "painful." I was practicing this cool "ninja" sword-drawing technique, basically involved running the meat of your thumb over the dull side of the blade as you drew it out. I was at a friend's house, and my friend had looked at the sword, taken it out of the sheath, etc. Well, when I picked it back up, it was turned the opposite way I had left it. TOTALLY should have checked, HELLO! Anyway, I did my little move…..thus nearly slicing my thumb off. Nearly fainted, lost a ton of blood. I had to be rushed to the emergency room for a bunch of stitches. So the funny part is, the very next day was our only real "rehearsal" session with these rocking fight choreographers who'd worked on Daredevil and a bunch of TV stuff. I felt like an IDIOT, and basically couldn't use that arm. They showed me the fight they'd worked out, and I was like, "Are you kidding?" But they were awesome, we worked through it. And met on set 2 days later to film it! The shoot was rough because every time anything even touched my arm, a shot of pain went through my entire body. I felt like such a fool. Despite that, though, only good memories and a nice scar for the grandkids.

CBB: You're pretty much a regular cast member in all 3rd Floor Productions ventures now.

SS: I guess I'd say I'm pretty much a regular – I've been in just about everything they've done since Amanda Hades. But I certainly don't take that for granted!

CBB: Tell us about "1st Person Shooter." How did you get involved?
Susan Smythe as Traci Nessi from "1st Person Shooter"

SS: Sean told me about 1PS when he broke the sad news about discontinuing Amanda Hades. He didn't say what it was exactly, but said 3rd Floor was going to tackle a feature , and he'd like me to be a part of it. However, I did audition for the role of Traci Nessi – it wasn't just handed to me. I love mockumentaries - love Christopher Guest films, The Office - So needless to say, I was thrilled to be a part of it.

CBB: I can tell there is certain comfortableness or maybe comradery is a better word among everyone in 1PS. Was a lot of this film ad libbed because of that?

SS: There IS a great camaraderie among most of the 1PS gang. We had a blast on that film, and as it was, in fact, a feature – spent a heck of a lot of time together. SO much laughter!! I'll tell you, I pride myself on my professionalism - being able to deliver lines without breaking/forgetting. But, WOW. Some of those scenes were ROUGH! Soooo funny.

We did ad lib a bit, but frankly, not as much as you'd think! Sean's script was so SPOT-ON and TIGHT. Amazing. However, Sean did let me throw a few improvised questions to everyone I interviewed just to throw 'em (evil laugh).

CBB: What are some of the moments that would really embarrass Jack or
Sean during the shooting of the film?

SS: There's a reason the movie stops with me ASKING Jack to play strip Halo. Had we gone any further, you'd have seen that Jack had to strip down to his undies pretty quickly because of my mad Halo skillz. Tighty whities, man, TIGHTY WHITIES. Need I say more?

(Jack? Just kidding, man! Just kidding!)

CBB: I think 1PS tops a lot of mainstream crap out there today. Understanding the logistics of how films are made and distributed along with the tons of film makers and their movies out there where do you see the film in the grand scheme of things?

SS: You know, I agree with you, and I think it could have such a huge cult following! I'm not involved in the distribution aspect of it and don't really know what will happen there, but my younger brothers (21 and 24) begged me for a copy – and they quote it all the time!

CBB: Will you ever appear in an episode of Geek Week?

SS: Good question – no idea. Sean?

CBB: The Comic Book Bin's crack unit investigatory team found you have made several independent films. OK! That's a lie. We used Google! Can you tell us a little about that work if you haven't already above and more importantly what you are currently working on?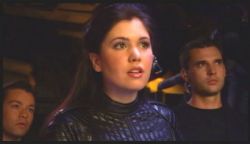 Susan Smythe as "Dr. Jenna Yameen" in Alliance

SS: I've been incredibly blessed to be in such a fun range of films and so many where I get to use weapons! (yay!) I've had the opportunity to play everything from pregnant teen to rave chick to secret agent to planetary archeologist - Alliance. The director of Alliance (Ajmal Z. Ahmad) is another brilliant director, and after Alliance, I worked with him on a Bollywood-esque feature called, "It's a Mismatch." Then last summer I had the opportunity to work with Nichelle Nichols (Uhura of Star Trek fame) in a feature called Lady Magdalene's, shot on location in Nevada (for which I had to dye my hair blonde). I played a federal agent undercover as a prostitute in a legal brothel. Oddly enough, I got the chance to work alongside my good friend Ethan Keogh in that (Sinai/Amanda Hades and Mr. Kane/Ninja Justice). It's your basic action/comedy/drama/romance. Two agents save the world and fall in love, all with the help of a local brothel. Since then I've shot a few short films and a pilot. Other than that, I've also enjoyed getting to see the short film Secret Agent (directed by Rain Breaw) play at a few festivals recently. In that I played (you guessed it) a secret agent. In the 3rd Floor world, I'll be a part of their latest project, Midnight Men.

CBB: Why do you think the world of comic books and even in sci-fi or comic book cinema is dominated by mostly male artists, writers, directors, ect? I come home after work and the wife is watching Law & Order – I grab my Justice League cartoons! Is it just the fact that men are from Mars and women are from Venis (where Law & Order runs 24 hours a day)?

SS: Wow. You know - that's a great question, and I don't know that I can adequately answer it. I'm not a huge comic book reader, per se, but I DO love my sci-fi and superheroes! I'm going to super-generalize here and say I wonder if more men than women have an epic desire be something GREAT and SAVE THE WORLD! And I mean that in a "from zombies" - "from aliens" - "from the forces of darkness" kind of way. It's nice to venture into a world where there is more to combat than a pile of papers at the office. A world where much is required of you. Where perhaps you have something to offer that no on else has. I don't know. I think men and women are different. A lot of times we yearn for different aspects of the same thing. Same story, different scenes? Okay, I'm rambling.

CBB: Very unoriginal question, but what is your dream acting gig?

SS: OKAY. TWO ANSWERS, VERY DIFFERENT.

I would love to be in period pieces - ala Jane Austen. Something with a British accent.

IT HAS BEEN MY LIFELONG DREAM TO PLAY WONDER WOMAN. Seriously, I've loved her ever since I was 3. At four I was climbing trees in my Wonder Woman bikini set. SOME DAY. If they make the movie without me (sigh) they BETTER choose an unknown.

CBB: From a scale of one to ten what is your "geekness" level?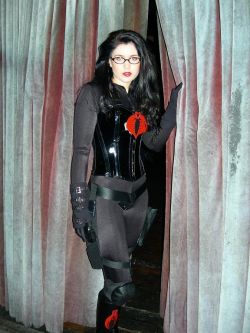 Yo Joe? NO Joe.

SS: My scale of geekness from 1 to 10 is an 8 because I geek out about everything from making my own costumes to superhero movie accuracy to English literature movie accuracy to fun vocabulary words to weapons to baking.

CBB: Anything else you would like to shoot out to our massive amount of readers that log in to our site from all over the world, the universe, and beyond?

SS: KEEP READING! LIVE LONG AND PROSPER! MAY THE FORCE BE WITH YOU! NEVER GIVE UP, NEVER SURRENDER!

Annnnnd, everybody officially stopped reading (laughing). I guess I'd just say - make your dreams a reality. Don't put them off. To achieve anything other than the ordinary, we must put forth extraordinary effort. So many people give up – settle for what comes easily. But if life is truly to be an adventure we must rise to the challenge and make it so.

Okay, I'm a dork. But I truly believe that.
---
I first caught Susan Smythe as the second actress to play a character called Amanda Hades on an internet show with the same name produced by 3rd Floor Productions. She was to take over the roll for the third season, but it only made it as far as a preview.
Not long after, 3rd Floor Productions put together a short film for a competition once again starring this talented beauty. This time out Susan shows she can really take names and kick ass! Check out the "Ninja Justice" short.
When 3rd Floor Productions finish their full length film "1st Person Shooter" there was Susan once again this time playing her alter ego Traci Nessi. You can check out a scene from "Shooter" as well as a little dash of other roles Susan has played.
---
If you have any suggestions for articles or want your fan film spotlighted on these here pages or just want to say hello please email me at christopher@comicbookbin.com.
Also visit the Comic Book Bins "Fan Film Follies" MySpace page by clicking HERE. Make sure you add us to your "FRIENDS"!
---
Last Updated: September 6, 2021 - 08:15