Comics / Comic Reviews / More Comics
Surfacing: Depth Perceptions #1 comics review
By Leroy Douresseaux
April 24, 2018 - 10:29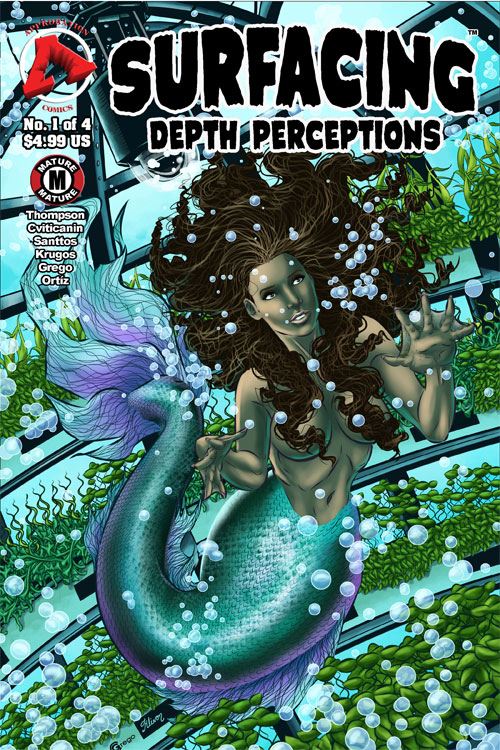 Surfacing: Depth Perceptions #1 cover image
Rated: "M" for Mature
Surfacing: Depth Perceptions
is a four-issue comic book miniseries from Approbation Comics. It tells the story of a young man who visits an oceanic research facility where he discovers a creature of fairy tales and myth that should not exist. Surfacing: Depth Perceptions is written by
B. Alex Thompson
; drawn by
Nenad Cviticanin
; colored by
Santtos
; and lettered by
Krugos
.
Surfacing: Depth Perceptions

#1
opens with the reunion of childhood friends,
Marcus Wright
and
Anton Parker.
Parker is in charge of an expensive ocean research facility, so Marcus assumes that he and Anton will catch up on old times before Anton makes a business proposal to him. However, Marcus soon discovers that Anton has a mermaid trapped inside the facility, and the revelation of this creature of myth could change, ruin, or end Marcus's life.
THE LOWDOWN:
Surfacing: Depth Perceptions #1 is one of the prettiest comic books Approbation Comics has published to date. The cover for the first issue features a gorgeous illustration and shimmering colors by Cesar Grego and Alivon Ortiz. The interior art by Nenad Cviticanin is well-drawn and cleanly drawn line art, which results in strong storytelling, especially in conveying how what is said by one character affects another. The colors by Santtos also reflect a clean and clear science fiction aesthetic. In a way, the coloring here recalls the sparse but evocative color photography of the film Ex Machina.
This first issue also offers some of B. Alex Thompson's most effective dialogue writing; it is fun to read the conversations between the characters. One can be forgiven for thinking that this is a Brian Michael Bendis script, but, no, it's Thompson's. He is a polished veteran comic book writer, and he makes this first issue an effective tease for the rest of this series. And I want more... of that hot mermaid!
I READS YOU RECOMMENDS:
Fans of ocean-based science fiction will want to read
Surfacing: Depth Perceptions
.
A
8 out of 10
www.ApprobationComics.com
www.AlexThompsonWriter.com
Rating: 8 /10
Last Updated: August 31, 2023 - 08:12