Comics / Manga / Yaoi Manga
Momoko Tenzen's Suggestive Eyes (Yaoi)
By Leroy Douresseaux
May 22, 2009 - 13:59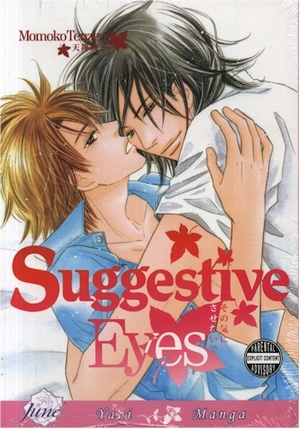 Suggestive Eyes cover image is courtesy of Anime Castle Books.
Drama/Romance; Rated "M" for "Mature Audiences 18+"
If eyes are the windows to the soul, can you discover someone's feelings by staring into his eyes? It begins with a glance in Suggestive Eyes, a yaoi manga collection by Momoko Tenzen that examines two romances set at a university graduate school.
First, Megumi Okazaki, a graduate student, finds himself being pursued by a younger student named Hisashi Kina. The romance blooms, and the sex is hot, but Megumi is still reeling from a recent break-up. When he realizes that he's still thinking about his ex, Megumi decides that he has no interest in sleeping with someone he doesn't love. Megumi isn't sure that he really loves Kina, so he thinks that they need to stop having sex. On the other hand, Kina knew that he was catching someone on the rebound when he caught Megumi. Kina loves Megumi, so for him, real feelings are involved. Will Megumi come to understand his feelings for Kina, who isn't giving up on their love?
Also, Suggestive Eyes looks back at the long love affair between former graduate assistants turned instructors, Shibata and Kikugawa. Can love remain strong after 15 years?
Suggestive Eyes is the perfect title for this collection, and not only because so much of this love story has to do with discovering affection and feelings through glances and stares. Momoko Tenzen (Manhattan Love Story) is quite good at creating scenes of lovemaking that are as sparkly as they are steamy, but she imparts so much of her romantic yarns through subtlety and suggestion. This is love from the heart more than it is from the loins.
Tenzen's figure drawing depicts the characters as beautiful in spirit, rather than the artist emphasizing beauty by drawing eye candy, bishounen boys. In fact, the figure drawing has to share the spotlight with the superb background and set art. College classrooms, university offices, bedrooms, building exteriors, etc. – this visual presentation creates environments that are pitch perfect for a romance. The last page of this collection's final story closes with scene that places the reader outside looking into an apartment as Shibata and Kikugawa sit serenely near a window. Wow! Talk about knowing how to end a great romance romantically.
A
www.digitalmanga.com
www.akadot.com
Shop for Yaoi Delights.
Last Updated: Jun 26, 2018 - 9:28