Sugar Princess: Volume 2
By Leroy Douresseaux
October 30, 2008 - 18:23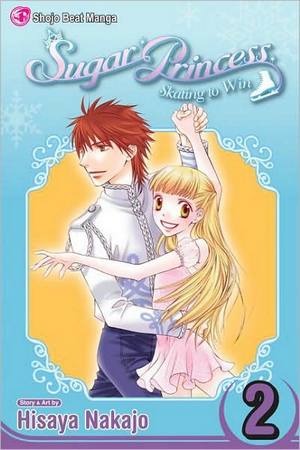 The cover image for Sugar Princess 2 is courtesy of barnesandnoble.com.
Rated "A" for "All Ages"
While trying to inspire bravery in her little brother at a local ice skating rink, Maya Kurinoki attempts a double axel (a jump that has two and a half revolutions). An amazing feat for a non-figure skater, it catches the eye of veteran coach, Eishi Todo, who convinces Maya to let him turn her into a figure skating "princess." Todo assigns champion teen skater Shun Kano to train Maya, but Shun really doesn't want to have anything to do with her.
In Sugar Princess, Vol. 2, the series comes to a close. The owner is threatening to close the skating rink, but has offered a chance to save the place. If any of the rink's regular skaters places in the top three in any category at a skating competition held at the rink, the rink will survive. Maya and Shun team up for the pairs skating competition, and while Shun has (somewhat) warmed to Maya, will they have enough time to get their act together?
THE LOWDOWN: This beautifully drawn and gently heartfelt tale of the young figure skating miracle, Maya Kurinoki, is a delight. Certainly not targeted at any demographic to which I belong, I found that in spite of myself I liked this. If fine drama is ultimately about engaging, gripping characters, then, Sugar Princess is a fine drama. The conflicts and goals of Sugar Princess' stars and supporting players come across a genuine; the readers buy into them. The delicate line and gentle brushwork on the inking in creator Hisaya Nakajo's art creates a pretty style that matches the beauty of figure skating.
POSSIBLE AUDIENCE: From the youngest shoujo manga (girls' comics) reader to the young at heart, all will find Sugar Princess to be sugary.
A-
Last Updated: January 24, 2022 - 11:00