SuBLime to Publish "His Favorite" Yaoi Manga
By The Editor
September 13, 2012 - 15:50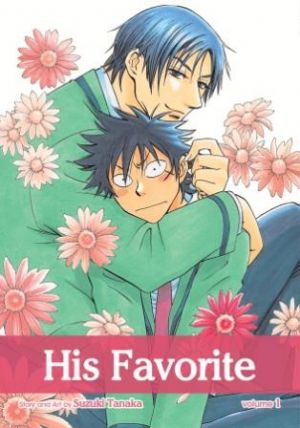 His Favorite Volume 1 yaoi manga cover image
GLOBAL YAOI PUBLISHER SuBLime DEBUTS HIS FAVORITE IN PRINT AND DIGITAL MANGA EDITIONS
Boy Meets Boy In A Charming Story That Shows How Love Transcends A Person's Outward Appearance And Blooms Between A Most Unlikely Couple
SuBLime, the global yaoi manga (graphic novel) publisher, invites fans and readers to savor the delightful story and dynamic artwork of Suzuki Tanaka's latest hit series, HIS FAVORITE. This new title is the latest to join SuBLime's growing yaoi library and is the first one to be rated 'T+' for Older Teens. Volume 1 is available now!
HAS FAVORITE Volume 1, carries a print MSRP of $12.99. The digital version is available simultaneously at an MSRP of USD $5.99 and offers fans digital access to two versions of each manga volume on SuBLimeManga.com – a DRM-free downloadable PDF that is viewable on any enabled eReader device and computer, and via the online manga viewer found on the web site.
HIS FAVORITE Vol. 1, by Suzuki Tanaka · Rated 'T+' for Older Teens · MSRP: $12.99 U.S. / $14.99 CAN · Available Now!
Yoshida is short, scrawny and generally unattractive. To make matters worse, all the girls in his class hate him because Sato, the hottest guy in school, always uses hanging out with him as an excuse to turn them down. Is Yoshida just a convenient excuse or is there something more? Could this odd couple even make things work?!
"HIS FAVORITE is a charming story that wonderfully balances a light-hearted comedy with a deeper romantic melodrama. We look forward to yaoi fans all over the world discovering this latest release from SuBLime," says Jennifer LeBlanc, Editor, SuBLime. "This series shows how true love can transcend someone's outward appearance and how the content of one's character and the desires of the heart are what really matter!"
Creator Suzuki Tanaka has garnered plenty of attention and critical acclaim for her manga works. After taking first place in the 2009 boys' love watch list book, Kono BL ga Yabai! 2009, her series HIS FAVORITE exploded in popularity and led to the reprint of her earlier work, Menkui.
For up-to-date news and release information, please visit the SuBLime website at SuBLimeManga.com, or follow SuBLime on Twitter at @SuBLimeManga and Facebook at facebook.com/SuBLimeManga.
Last Updated: September 6, 2021 - 08:15