Strobe Edge: Volume 8 manga review
By Leroy Douresseaux
January 27, 2014 - 17:03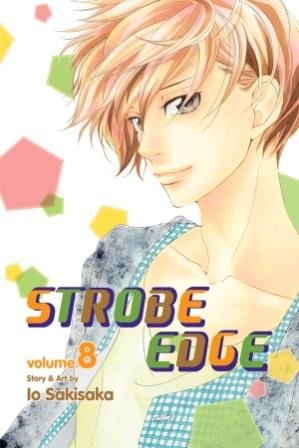 Strobe Edge: Volume 8 cover image is courtesy of barnesandnoble.com.
Rated "T" for "Teen"
She is 16-years-old, but Ninako Kinoshita has the complicated love life of an adult. Ninako loves Ren Ichinose, but Ren loves someone else. Just before summer vacation begins, Ninako tells Ren how she feels about him, but he turns her down...
As Strobe Edge, Vol. 8 (Chapters 27-30) begins, Ninako is glad that Ren is opening up to her about his feelings. Still, she is a bit unhappy that they still are not dating. She also has to fend off advances from Takumi Ando, Ren's friend with whom he has a complicated relationship.
Then, Ando's ex-girlfriend shows up at their high school, and she targets Ninako in order to get what she wants. Meanwhile, Ninako suddenly has to learn to become a cheerleader, and the pressure might be making her ill.
THE LOWDOWN: The Strobe Edge manga is a typical high school shojo romantic manga. As such, it will please readers who are really in love with the genre and don't expect anything ground-breaking for the series. It can be a bit repetitive in themes and plot – Ninako is always lovelorn – but I like it.
What I do find exceptional is the pretty art. The characters supple faces, the emotive expressions, and the big beautiful eyes hypnotize me. The art is like candy to me.
POSSIBLE AUDIENCE: Fans of Shojo Beat high school romance will want to try the Shojo Beat title, Strobe Edge.
Rating: B+ /10
Last Updated: September 6, 2021 - 08:15