Strobe Edge: Volume 6 manga review
By Leroy Douresseaux
September 5, 2013 - 17:05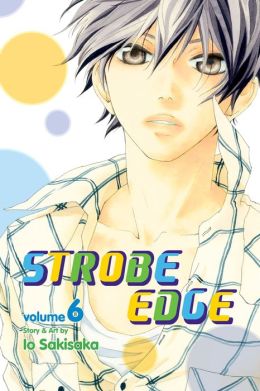 Strobe Edge Volume 6 cover image is courtesy of barnesandnoble.com.
Rated "T" for "Teen"
Sixteen-year-old Ninako Kinoshita loves Ren Ichinose, but Ren loves someone else. Just before summer vacation, Ninako tells Ren how she feels about him, but he turns her down...
As Strobe Edge, Vol. 6 (Chapters 20-22) begins, the rumors begin to spread that Ren and his girlfriend, Mayuka Korenaga, are over as a couple. Daiki, Mayuka's brother and Ren's friend, lets Ren know that there are no hard feelings on his part. However, Daiki hopes to contain the gossip. Ninako wonders what she should do with this news.
Meanwhile, Takumi Ando, another suitor for Ninako's affections, decides that he won't let Ren stand in the way of his dating Ninako. It leads to a confrontation in which these two long-time friends meet on the basketball court. Plus, Ando reveals a past transgression committed by Ren.
[This volume contains a bonus story: "Colorless Dreamer."]
THE LOWDOWN: The Strobe Edge manga is not groundbreaking shojo high school romance, but as standard fare, it is good. It is a "lite" version of Yuuki Obata's potent and dramatic We Were There and Aya Nakahara's tale of star-crossed lovers, Love*Com.
Still, the beautiful art makes Strobe Edge worth reading, if for no other reason than to see some of the most beautiful eyes ever drawn in a comic book. Also, not content with a mere love triangle, creator Io Sakisaka offers a "love-trigonometry" of suitors and would-be pairs. I want to see who gets whom.
POSSIBLE AUDIENCE: Fans of Shojo Beat high school romance will want to try the Shojo Beat title, Strobe Edge.
Rating: B+ /10
Last Updated: January 24, 2022 - 11:00