Strobe Edge: Volume 5 manga review
By Leroy Douresseaux
July 23, 2013 - 17:26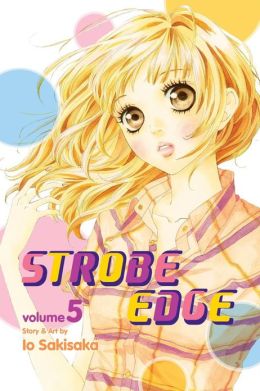 Strobe Edge Volume 5 cover image is courtesy of barnesandnoble.com.
Rated "T" for "Teen"
Sixteen-year-old Ninako Kinoshita loves Ren Ichinose. But this heroine loves a guy that loves someone besides her. Just before summer vacation, Ninako tells Ren how she feels about him, but he turns her down...
As Strobe Edge, Vol. 5 (Chapters 16-19) begins, Ren and his girlfriend, Mayuka Korenaga, hope to find time to spend together by trying to schedule around upcoming exams and winter break. Mayuka and her brother, Daiki, also have a big meeting with their father, who is divorced from their mother. Dad's getting ready to move away with his new wife.
Meanwhile, Takumi Ando decides that he is not going to give up on getting Ninako to return his love. So he tells her that. Ninako has accepted that Ren is in love with someone else… or has she.
[This volume contains a bonus story: "Strobe Edge: Unfinished Map."]
THE LOWDOWN: Upon first reading the Strobe Edge manga (Vol. 2), I commented, in my review, that the title featured some beautiful art. Strobe Edge reminds me of Miki Aihara's shojo series, Honey Hunt, another Shojo Beat series with dazzling art.
I found that with Strobe Edge Volume 5, creator Io Sakisaka captures me with the story and not merely with pretty art. I found myself engaged on every level with every subplot. Normally, I would ignore the Korenaga family drama, but I liked the… edge (pardon me) in this family's drama. I found myself thinking about the Korenaga's long after I'd moved on from the scene. There is also a killer ending, regarding a relationship, that makes this a series worth watching.
POSSIBLE AUDIENCE: Fans of Shojo Beat high school romance will want to try the Shojo Beat title, Strobe Edge.
Rating: A- /10
Last Updated: August 31, 2023 - 08:12