The Story of Saiunkoku: Volume 7
By Leroy Douresseaux
April 29, 2012 - 09:41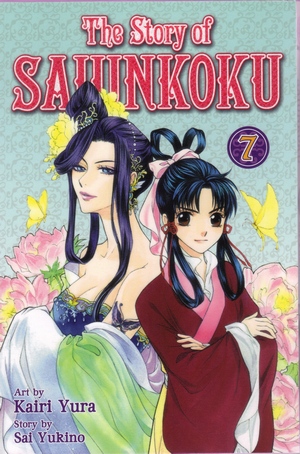 The Story of Saiunkoku Volume 7 cover image
Rated "T" for Teen
Destitute Shurei Hong was born to a noble family. Her dream was to become a civil servant at the imperial court, but women are barred from holding office. Later, she went to the imperial court of Saiunkoku (a fictional empire) where she was dubbed "Lady Shurei," the tutor of Ryuki Shi, the young emperor who refused to take command. After teaching a young emperor to rule, Shurei passed the Imperial Civil Exam and became Saiunkoku's first female civil servant.
As The Story of Saiunkoku, Vol. 7 begins, a mysterious figure plots against Shurei as part of a larger plan to retrieve a jewelry box. Before she knows it, Shurei is being held prisoner in a place she once (temporarily) called home. The townspeople who once admired her now view her with suspicion as the first female civil servant. Now, the Hong family comes together to support their princess.
THE LOWDOWN: I have barely touched upon all that is going on in the current volume of The Story of Saiunkoku manga. There are several matters within the Hong family dynamic that need to be resolved, or at least touched upon. As I've written in past reviews, I enjoy the romance, the courtly intrigue, the doe-eyed heroine, and the pretty boy heroes, and I really enjoy the light-hearted soap opera that this series is.
Author Sai Yukino is on automatic as she spins salty tales of backbiting. She can also spin cotton candy, as in the charming side story, "The Dream's Continuation," which recounts how Seiran Shi became a part of Shurei's family. This historical and costume drama benefits from the lovely drawings of artist Kairi Yura, so I can't stop looking even when the story might bore me a little.
POSSIBLE AUDIENCE: Readers who enjoy shojo historical fiction and romance will like The Story of Saiunkoku.
B+
Last Updated: August 31, 2023 - 08:12