St. Dragon Girl: Volume 3
By Leroy Douresseaux
Jun 4, 2009 - 23:22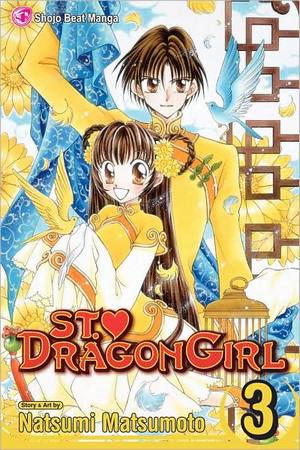 St. Dragon Volume 3 cover image is courtesy of barnesandnoble.com.
Rated "T" for "Teen"
A first year student at Tourin Academy, 16-year-old Momoka Sendou is a top martial artist and a member of the kenpo club. Her childhood friend, Ryuga Kou, is a Chinese magic master who specializes in banishing demons. In order to increase his power, Ryuga summoned the spirit of a dragon to possess him, but the spirit entered Momoka instead. Momoka becomes the invincible "Dragon Girl." Now, she and Ryuga battle devious demons and other cantankerous spirits.
In St. Dragon Girl, Vol. 3, Momoka and Shunran (Ryuga's cousin) encounter the spirit of a young boy who can't remember who he is or how he died. Shunran befriends him, but then, she begins to fall ill. Meanwhile, Ryuga, who is fully capable of banishing the boy, really wants to do so after he learns that the boy possessed Momoka's body! Next, the time has come for Ryuga to have his powers tested, which is a family tradition. He must banish a snake spirit haunting a relic in a museum, and Ryuga's cousin. Kouryu Kou, a rival for Momoka's affections, has come to give moral support… or has he?
THE LOWDOWN: What I said in my review of the first volume of St. Dragon Girl (stylized as St. ♥ Dragon Girl): "Magic, martial arts, and love: these are the ingredients manga-ka Natsumi Matsumoto transforms into the flavorful shojo brew, St. Dragon Girl…" is till true. I'm not part of the intended audience for this series. This is shojo manga (comics for teen girls), but St. Dragon Girl is like a giant-sized root beer float. At some point, you might be too old to have such a really sweet treat in an extra-large size, but it is still sooooo good. The gorgeous, textured, toned art by Matsumoto makes this series about a feisty fight girl and her mannish, teenaged sorcerer boyfriend delectable eye candy with an ice cream float on the side.
POSSIBLE AUDIENCE: Fans of the work of Arina Tanemura (Full Moon) will likely enjoy St. Dragon Girl, but older readers can enjoy this satisfying sweet.
A-
Last Updated: Jun 26, 2018 - 9:28