Comics / Comic Reviews / Marvel Comics
Star Wars: Mace Windu #1 comics review

By Leroy Douresseaux
September 4, 2017 - 20:18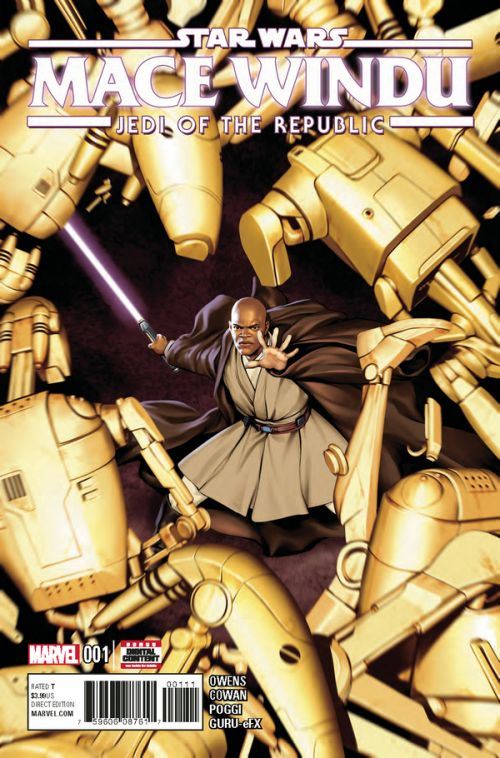 Star Wars: Mace Windu #1 cover image
Rated "T+"

"Book 1, Part 1"
The Jedi Knight and Jedi Council member,
Mace Windu
, was introduced in the film,
Star Wars: Episode I – The Phantom Menace
(1999). Although, Windu has appeared in numerous Star Wars novels, even being the lead character in one, he has never headlined his own comic book series.
That changes with the new five-issue comic book miniseries,
Star Wars: Mace Windu
(which is apparently also known as Star Wars: Jedi of the Republic – Mace Windu). The series is written by
Matt Owens
; drawn by
Denys Cowan
(pencils) and
Roberto Poggi
(inks); colored by Guru-eFX; and lettered by
Joe Caramagna
.
Star Wars: Mace Windu

#1
opens immediately after the events depicted in the film,
Star Wars: Episode II – Attack of the Clones
(2002). The Clone Wars have begun, and while the Jedi have been the peacekeepers of the galaxy for over a thousand generations, they now find themselves in a new role. The Jedi Knights are now generals in the Army of the Republic.
Mace Windu has mixed feelings about fighting in a war, but, like the other Jedi Knights, he must make peace with this new role, lest he be swallowed up by the tide of this war. Now, Mace must lead a small contingent of Jedi: fellow council member, Master Kit Fisto; the blind Jedi, Prosset Dibs; and the recently knighted Jedi and pilot, Rissa Mano. Their mission will take them to the Outer Rim, specifically to the jungle planet, Hissrich, where they will monitor their Clone War antagonist, the Separatists. However, this is a dangerous and wild world, and Windu and company are unaware of the true danger they will find on Hissrich.
THE LOWDOWN:
I have been waiting for a Mace Windu comic book for well over a decade, and in the span of a year Marvel Comics has given me both a Lando Calrissian and a Mace Windu comic book. Yep, it's like Marvel did it just for me. And yes, I am pleased as punch that the lead artist on this Mace Windu comic book is the incomparable Denys Cowan.
From the fierce cover to the spectacular interior art by Cowan and inker Roberto Poggi, Mace Windu offers graphical storytelling of striking images (especially the first page) and explosive action. The vivid coloring by Guru-eFX makes the art seem to pop off the page. Matt Owens' story balances the philosophical conundrum the Clone Wars has caused the Jedi with the energetic sci-fi/fantasy action that we expect of Star Wars.
Star Wars: Mace Windu #1 gives the series a good start. If the other first issues of solo miniseries (like the Han Solo and Lando series) are any indication, what follows Mace Windu #1 will be a blast.
I READS YOU RECOMMENDS:
Fans of the Jedi with the purple light saber finally have a substantial Windu comic book in
Star Wars: Mace Windu
.
A
8.5 out of 10
Rating: 8.5 /10
Last Updated: January 24, 2022 - 11:00