Comics / Comic Reviews / More Comics
Star Wars #4 Advanced comics review
By Leroy Douresseaux
April 8, 2013 - 11:09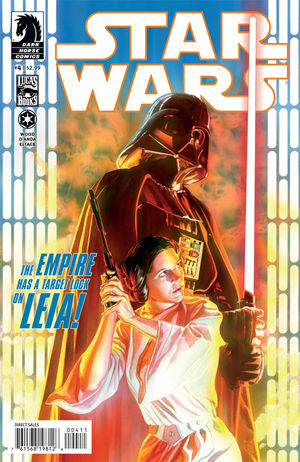 Star Wars #4 - art by Alex Ross - cover image
"In the Shadow of Yavin" Part Four
This new comic book series is simply entitled Star Wars. Published by Dark Horse Comics, Star Wars is set during the time of the original and classic Star Wars film trilogy. Star Wars is written by Brian Wood, drawn by Carlos D'Anda, colored by Gabe Eltaeb, and lettered by Michael Heisler, with covers provided by Alex Ross.
The opening story arc, "In the Shadow of Yavin," takes place shortly after the events depicted in Star Wars: Episode IV – A New Hope. The Rebel Alliance destroyed the Galactic Empire's fearsome space station, the Death Star, at the Battle of Yavin. The Rebellion, still fighting off attacks from the Empire, is trying to find a new permanent home base and to restock supplies and armaments. Princess Leia Organa has formed a secret squadron of stealth X-wings to help find a new rebel base and also to help expose a spy within the Rebellion's ranks
As Star Wars #4 opens, Han Solo and first mate, Chewbacca, are aboard the Millennium Falcon, trying to escape from Coruscant, the Imperial center. Now, to save their lives, they will have to get deeper into a snake pit. Meanwhile, Senator Leia Organa and her secret squadron of stealth X-wings enter the Pybus System, in the continuing search for a new rebel base.
Luke Skywalker and fellow squad member, Prithi, have been grounded for their actions. However, Luke is about to make two surprising discoveries. Also, Darth Vader meets Birra Seah; is she an enemy or an ally?
THE LOWDOWN: This new Star Wars comic book is like having A New Hope – the day after or what happened after Luke destroyed the Death Star. Writer Brian Wood tells a story that reads as if it were the real thing – the continuing story of the first Star Wars movie. Wood has practically fooled me into believing that this script came straight out of 1977-78.
Carlos D'Anda does what any Star Wars comic book artist should do: draw comics that look like Star Wars. In this case, D'Anda is true to the visual aesthetic of the original film, and his work recalls the early Star Wars comics from Marvel Comics back in the late 1970s. The new Star Wars comic book is the realest Star Wars we can get at the moment.
POSSIBLE AUDIENCE: The Force will call readers of Star Wars comics and fans of the original Star Wars trilogy to the new Star Wars.
Rating: 9.5 /10
Last Updated: September 6, 2021 - 08:15