Splatoon: Volume 2 manga review
By Leroy Douresseaux
Apr 13, 2018 - 14:44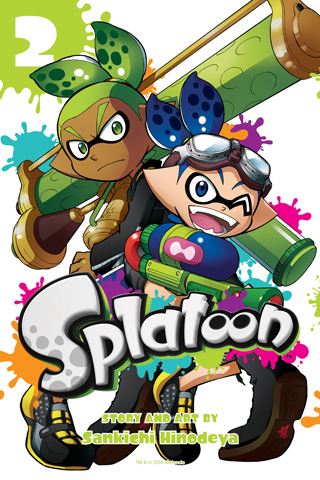 Splatoon Graphic Novel Volume 2 cover image
Rated "T" for "Teen"
Splatoon
is a third-person shooter video game developed and published by Nintendo for the Wii U. Released worldwide in May 2015, Splatoon centers around characters known as
Inklings
, beings that can transform between humanoid and squid forms. They hide or swim through colored ink sprayed on surfaces using guns, buckets, or brush-based weaponry.
There has been manga (Japanese comics) based upon the game. VIZ Media is currently publishing Splatoon manga produced by creator,
Sankichi Hinodeya
, in English in graphic novel form. Hinodeya's manga focuses on
Team Blue
, which is comprised of the Inklings:
Goggles
,
Bobble Hat
,
Head Phones
, and
Specs
.
Splatoon

, Vol. 2
(Chapters 5 to 7) opens with Team Blue looking for a battle (called a "turf war"), and getting one. However, their opponents are the highly-skilled,
Team Cyan
, and Blue soon falls to defeat.
Rider
, a high-ranked (S4) fighter, offers to help the members of Team Blue train in order to improve, but are the members of this team serious about getting better? They better be; the formidable
Skull
and
Team Purple
await.
[This volume includes the bonus material, "Dark Green," "Train! Train!," and "Inkling Almanac."]
THE LOWDOWN:
My VIZ Media representative often sends me VIZ titles for review that are based on video games, and I usually enjoy them. I am familiar with Splatoon because my niece is a huge fan of the game, so I was curious about the copy of the Splatoon manga I received.
Splatoon Graphic Novel Volume 2
is one of the least enjoyable manga reads that I have had in quite a while. It is not that this series is poorly produced. It simply does not work me, mostly because I think it should be a color comic book. The art and graphical storytelling is also too crowded, and that makes the story hard to read on many occasions. But this may work for fans of the game.
I READS YOU RECOMMENDS:
Fans of Splatoon who also like comic books may want to try the
Splatoon
graphic novels.
C
4 out of 10
Rating: 4 /10
Support this writer on Patreon
Last Updated: Jun 26, 2018 - 9:28