Comics / Comic Reviews / Marvel Comics
Spirits of Vengeance #1: Legacy comics review
By Leroy Douresseaux
October 24, 2017 - 20:04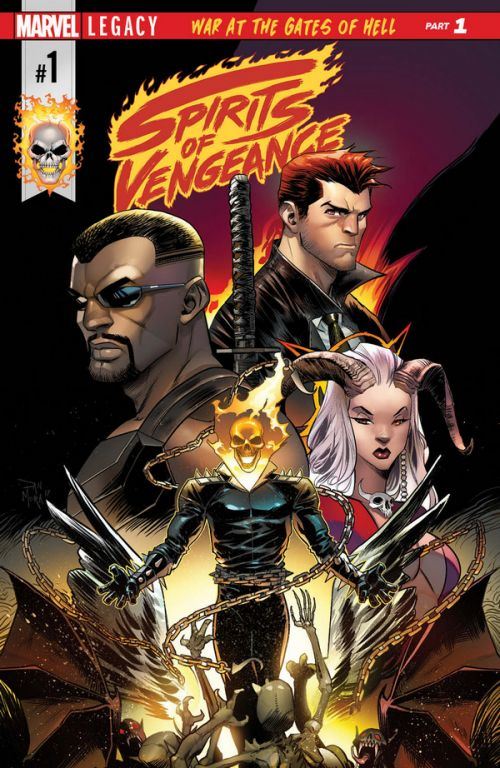 Spirits of Vengeance #1 cover image
Rated T+

War at the Gates of Hell Part 1

Johnny Blaze
– the second
Ghost Rider
. Eric Brooks –
Blade
the vampire hunter.
Damian Hellstrom
– a.k.a. Son of Satan a.k.a. "Hellstorm."
Satana
– Damian's sister and the daughter of Satan. They are the stars of a new five-issue miniseries from Marvel Comics, entitled Spirits of Vengeance.
This comic book is written by
Victor Gischler
; drawn by
David Baldeón
; colored by
Andres Mossa
; and lettered by
Cory Petit
. The series follows a mission to keep the balance the power in an ancient war from tipping to one side.
Spirits of Vengeance

#1
finds Johnny Blaze, the second Ghost Rider and the first supernatural and first superhero Ghost Rider, stopped at a bar on Route 66. Nursing a beer, Blaze gets a fiery visit from a winged being. Left with an item wanted by dark forces, Blaze turns to Damian Hellstrom for help and information. A dead angel, a silver bullet; and a kept promise – Blaze and Hellstrom will find themselves caught in a war between Heaven and Hell. They will need some help.
THE LOWDOWN:
Writer Victor Gischler is good with dark and edgy action, but he is also an imaginative writer, as seen in his miniseries,
Sally of the Wasteland
(Titan Comics, 2014). Spirits of Vengeance #1 offers the dark and the inventive, and it is a shame that what was supposed to be a regular series is only a miniseries. Gischler could have done something good with this, and I feel safe saying that after reading only the first issue of this series.
Of course, Gischler has an excellent collaborator and storyteller in artist David Baldeón. The Spanish artist reminds me of artist Joe Madureira. Here, Baldeón presents elastic and supple figure drawings that give the characters life and also give them distinct personalities – even the characters who are not around for long. This is dynamic graphical storytelling, with an excellent sense of the dark and the supernatural. And Baldeón simply makes Spirits of Vengeance look different from other Marvel titles.
Well, I'll enjoy this comic book while I can.
I READS YOU RECOMMENDS:
If you like Blade, Johnny Blaze, Hellstrom, and/or Satana, then you have to read
Spirits of Vengeance
.
A
8 out of 10
Rating: 8 /10
Last Updated: January 24, 2022 - 11:00