Spider-Man 3 Third Movie Review
By Leroy Douresseaux
May 12, 2007 - 12:32
Sam Raimi returns to direct
Spider-Man 3
, and this time he has the hero and film juggling a gaggle of new characters, which ultimately weighs down this film and denies the best villain of this installment, Venom, the substantial screen time that would have made SpM3 as good as
Spider-Man 2
.
Peter Parker
(Tobey Maguire) has finally struck a balance between his life as the costumed superhero,
Spider-Man
, and his civilian life, which includes his girlfriend,
Mary Jane Watson
(Kirsten Dunst) or
M.J.
, but there are so many troubles brewing on his horizon. First,
Harry Osborn
(James Franco), the son of Spider-Man's most dangerous enemy, the villainous Green Goblin, strikes at him using some of his father's technology. Next, Peter learns that
Flint Marko
(Thomas Haden Church) was the man who really killed Peter's beloved
Uncle Ben
(Cliff Robertson). A freak scientific accident fuses Marko's DNA with sand, and he becomes the shape-shifting
Sandman
. If that weren't enough, Peter, a photographer for the Daily Bugle meets his new rival,
Eddie Brock
(Topher Grace), a sneaky twerp willing to do just about anything to impress the Bugle's editor-in-chief,
J. Jonah Jameson
(J.K. Simmons), in order to get the fulltime photographer position Peter wants.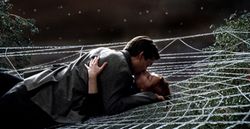 Peter and M.J. stuck in a web of love.
Peter and M.J. (who knows that Peter is also Spider-Man) are also at odds because M.J. feels that whenever she needs a shoulder to cry on, Pete is too busy talking about being Spider-Man and how popular the hero has become with the general public. Their relationship crumbles when M.J. sees Spider-Man/Peter Parker kissing Eddie Brock's girlfriend,
Gwen Stacy
(Bryce Dallas Howard). Meanwhile, Peter has encountered an alien substance, a symbiotic creature, which merges with Spider-Man and his traditional red and blue costume and turns it black. The union also changes Peter's personality, and it is the new, more aggressive and selfish Peter who publicly humiliates Brock. Unbeknownst to Pete, Brock will play a major part in bringing forth Spider-Man's arch-nemesis,
Venom
. As Peter Parker tries to repair the rifts between he and his closet friends and also rediscover his compassion, Sandman and Venom form an unholy union to have their revenge against the wall-crawling hero.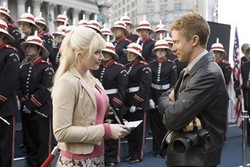 Gwen and Eddie
Spider-Man 3 is a special effects extravaganza, featuring dizzying chase scenes in which characters are whirling, twirling, spinning, soaring, plunging, etc. between the buildings and structures of New York City. Above the street and below, Spider-Man and his adversaries defy gravity and avoid destruction even when gravity or the force of their own punches and kicks send them spiraling toward an extra hard landing. Computer rendered characters including CGI version of Spider-Man, Sandman, Venom, "Goblin, Jr. Harry Osborn, and the civilians they endanger (including M.J. and Gwen) account for the bulk of the complex action scenes, which couldn't be pulled off with such dazzling, dizzying flair using real actors.
In the end, however, Spider-Man 3 is like the original 2002
Spider-Man
movie - a lot of sound and fury dropped in between poignant character drama. The core of this movie is the message of compassion, forgiveness, and heroism. Early in the film, things are going so well for Peter - he's going to propose to M.J. and the public adores Spider-Man - that when an obstacle presents itself or a little rain falls in his life, he's turns to anger, pride, envy, and vengeance. In fact, most of the characters are looking for retribution or dealing with bitterness and personal defeat.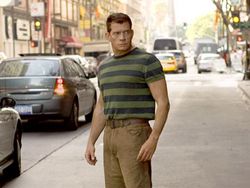 Flint Marko, this film's tragic villain.
Try as Raimi, his co-writers, and cast might, the film has no soul, however. It's simply a loud, superhero action fantasy built on CGI. There are too many characters and subplots to allow the drama and message to fully bloom into hearty flowers. Spider-Man 3 has the thrills and chills of superhero and villains colliding, but it is exceedingly dark and gloomy, which doesn't allow the heroism to come through until the end. Of course, if this is really just popcorn entertainment, who cares if the human drama is just window dressing?
B-
For more movie reviews, visit
http://www.negromancer.com
.
Last Updated: January 24, 2022 - 11:00