So Cute It Hurts!! Volume 15 manga review
By Leroy Douresseaux
October 7, 2017 - 10:56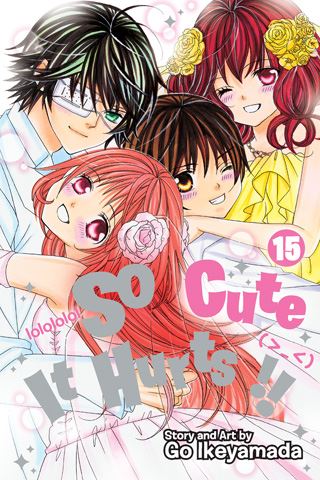 So Cute It Hurts!! Volume 15 cover image
Rated "M" for "Mature"

Megumu "Mego" Kobayashi
(a girl) and
Mitsuru Kobayashi
(a boy) are twins. Megumu is a full-on otaku and a history nerd, while Mitsuru, the popular and successful high school jock, is terrible at history. One day, dark-haired Mitsuru concocts the idea that he should put on a blonde wig and dress up as Megumu and attend her school, Tosho High. Meanwhile, Megumu will wear a dark wig, dress like Mitsuru, and take his history exams. This is not the last time the twins will switch places, especially when love is involved.
So Cute it Hurts!!
, Vol. 15 (Chapters 72 to Final Chapter) opens four years after the
Great Tohoku Earthquake
and nearly nine years after the story began. This is the wedding day of Megumu, now 23-years-old, and her longtime boyfriend,
Aoi Sanada
. After so much tragedy, can this day be the beginning of happily-ever-after?
[This volume includes two "Bonus" stories; an interview with Go Ikeyamada; the story, "The Goddess Never Turns Back?!" and an "Afterword."]
THE LOWDOWN:
The
So Cute it Hurts!!
manga started out as "T" rated shojo-manga-cute. The series took a surprising turn as its rating went from "T" (for Teen) to "M" (for Mature), as Megumu and Aoi became... intimate.
So Cute it Hurts!! Volume 15
is the final volume of the series, and it closes the series with a mixture of cute and grown-up. This "cute," however, has to do with teen characters who have made the transition into adulthood, and adult relationships and roles. That includes parenthood and cute kids! I often find myself having problems with final volumes, but in the final volume of So Cute it Hurts!!, creator
Go Ikeyamada
gives the characters the happiness they deserve
I READS YOU RECOMMENDS:
Anyone who reads high school shojo romantic comedies should read the Shojo Beat title,
So Cute it Hurts!!
A
8 out of 10
Rating: 8 /10
Last Updated: May 19, 2020 - 12:25