So Cute It Hurts!!: Volume 13 manga review
By Leroy Douresseaux
June 7, 2017 - 22:38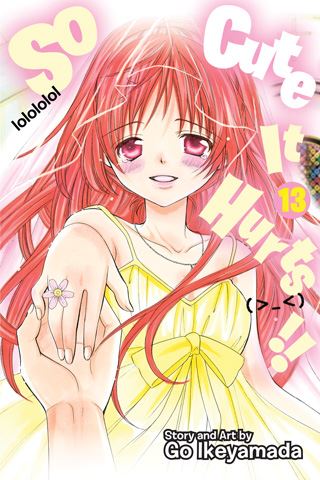 So Cute It Hurts Volume 13 cover image
Rated "M" for "Mature"
Megumu "Mego" Kobayashi
(a girl) and
Mitsuru Kobayashi
(a boy) are twins. Megumu is a full-on otaku and a history nerd, while Mitsuru, the popular and successful high school jock, is terrible at history. One day, dark-haired Mitsuru concocts the idea that he should put on a blonde wig and dress up as Megumu and attend her school,
Tosho High
. Meanwhile, Megumu will wear a dark wig, dress like Mitsuru, and take his history exams. This is not the last time the twins will switch places, especially when love is involved.
So Cute it Hurts!!

, Vol. 13
(Chapters 62 to 66) opens after Mego and her 19-year-old boyfriend,
Aoi Sanada
, make love. Aoi is attending college in
Sendai
, and Mego decides to move there after she graduates high school. However, ominous dreams about harm coming to Aoi make Mego nervous. Are these dreams just signs of stress or are they something prophetic?
Meanwhile, Mitsuru is determined to prove his love for
Azusa Tokugawa
and his worth to be her partner to her father,
Shuichi
... by coming in first in a national exam. However, his rival for Azusa's affections,
Shogo Toyotomi
, is one of the best students in the country!
THE LOWDOWN:
The So Cute it Hurts!! manga is still cute. However, now it is so romantic it hurts. The series took a surprising turn as its rating went from "T" (for Teen) to "M" (for Mature). That is what happens when the characters start having sexual intercourse.
So Cute it Hurts!! Volume 13
is as good a read as any volume in the series, but it is filled with surprises. According to an "Afterword" written by series creator,
Go Ikeyamada
, an even bigger shock is coming as the series ends. That sounds so ominous or so exciting that we should not stop reading.
I READS YOU RECOMMENDS:
Anyone who reads high school shojo romantic comedies should read the Shojo Beat title,
So Cute it Hurts!!
A
Rating: A /10
Last Updated: May 19, 2020 - 12:25