So Cute It Hurts!!: Volume 12 manga review
By Leroy Douresseaux
April 11, 2017 - 09:50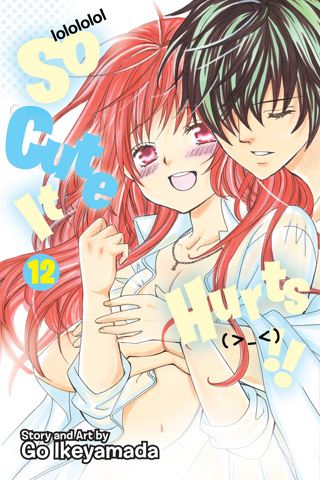 So Cute It Hurts Volume 12 cover image
Rated "M" for "Mature"
Megumu "Mego" Kobayashi
has a twin brother,
Mitsuru Kobayashi
(a boy). Megumu is a full-on otaku and a history nerd, while Mitsuru, the popular and successful high school jock, is terrible at history. One day, dark-haired Mitsuru concocts the idea that he should put on a blonde wig and dress up as Megumu and attend her school, Tosho High. Meanwhile, Megumu will wear a dark wig, dress like Mitsuru, and take his history exams. This is not the last time the twins will switch places, especially when love is involved.
As
So Cute it Hurts!!

, Vol. 12
(Chapters 56 to 61) opens, Mego is dealing with the fact that her 19-year-old boyfriend,
Aoi Sanada
, is attending college in
Sendai
. Living in Tokyo, Mego has to accept being in a long distance relationship. Now, Mego has the chance to visit Aoi, but her parents are tagging along. And Aoi is ready to take their relationship to the next level!
Meanwhile, Mitsuru and
Azusa Tokugawa
grow closer. They truly love one another. However, Azusa's father,
Shuichi Tokugawa
, has decided that Mitsuru isn't good enough for his daughter. Enter Azusa's fiancé,
Shogo Toyotomi
.
THE LOWDOWN:
The So Cute it Hurts!! manga is still so good to read. While it is still adorably cute, this series has taken a surprising turn.
So Cute it Hurts!! Volume 12
is rated "M for Mature" by its North American publisher, VIZ Media. Creator Go Ikeyamada is allowing her characters to have sexual relations. Well, the narrative has seemed destined towards sex since the beginning. First, it was cute; now, So Cute it Hurts!! is cute and hot. It has turned out to be something more than it seemed it would be.
I READS YOU RECOMMENDS:
Anyone who reads high school shojo romantic comedies should read the Shojo Beat title,
So Cute it Hurts!!
A
Rating: A /10
Last Updated: May 19, 2020 - 12:25