So Cute It Hurts!!: Volume 11 manga review
By Leroy Douresseaux
February 10, 2017 - 13:02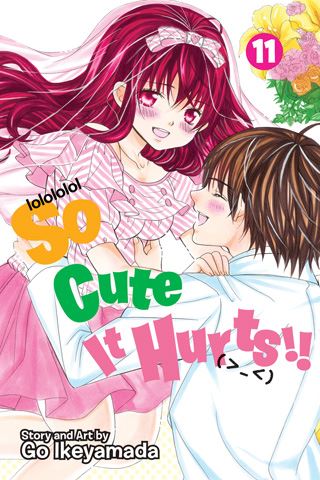 So Cute It Hurts Volume 11 cover image
Rated "T" for "Teen"
Megumu "Mego" Kobayashi
(a girl) and
Mitsuru Kobayashi
(a boy) are twins. Fifteen-year-old Megumu is a full-on otaku and a history nerd, while Mitsuru, the popular and successful high school jock, is terrible at history. One day, dark-haired Mitsuru concocts the idea that he should put on a blonde wig and dress up as Megumu and attend her school, Tosho High. Meanwhile, Megumu will wear a dark wig, dress like Mitsuru, and take his history exams. This is not the last time the twins will switch places, especially when love is involved..
So Cute it Hurts!!

, Vol. 11
(Chapters 51 to 55) opens with another showdown – this time it is a confrontation between
Azuka Tokugawa
and her parents: her cold, calculating father,
Shichi Tokugawa
, and her sexy, but weak mother
Kyoka Tokugawa
. Just when it all falls apart, Mitsuru makes a splashy entrance with something to declare. Meanwhile,
Aoi Sanada
is graduating and moving on to
T University
in
Sendai
– 200 miles from Tokyo where Mitsuru lives. How will they say goodbye and how will they make a long distance relationship work?
THE LOWDOWN:
The
So Cute it Hurts!!
manga is still so good to read that it hurts when I finish a volume. Yeah, it's cute, but this cute isn't cutesy... at least, not in a bad way.
So Cute it Hurts!! Volume 11
is another volume that introduces change to the narrative. Creator Go Ikeyamada shifts the narrative forward, sometimes months at a time. Don't panic! Change does not affect this lovely high school-almost college shojo romance. I'll declare again: read this! This is one of the ultimate feel good shojo romances.
I READS YOU RECOMMENDS:
Anyone who reads high school shojo romantic comedies should read the Shojo Beat title,
So Cute it Hurts!!
A
Rating: A /10
Last Updated: May 19, 2020 - 12:25