So Cute It Hurts!!: Volume 10 manga review
By Leroy Douresseaux
December 8, 2016 - 23:04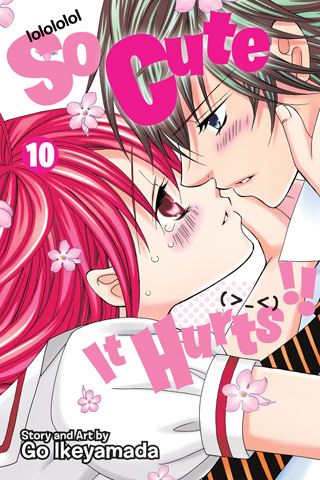 So Cute It Hurts Volume 10 cover image
Rated "T" for "Teen"
They are twins:
Megumu "Mego" Kobayashi
(a girl) and
Mitsuru Kobayashi
(a boy). Fifteen-year-old Megumu is a full-on otaku and a history nerd, while Mitsuru, the popular and successful high school jock, is terrible at history. One day, dark-haired Mitsuru concocts the idea that he should put on a blonde wig and dress up as Megumu and attend her school,
Tosho High
. Meanwhile, Megumu will wear a dark wig, dress like Mitsuru, and take his history exams. This is not the last time the twins will switch places, especially when love is involved..
So Cute it Hurts!!

, Vol. 10
(Chapters 46 to 50) opens with another showdown – the fight against
Azuka Taokugawa
's kidnappers. In rescuing Azuka,
Aoi Sanada
and Megumu finally open up to one another. Let the love flow! Now, Mitsuru must begin to melt Asuka's heart or at least force her to let down her guard. But her ratchet parents may mess everything up.
THE LOWDOWN:
The
So Cute it Hurts!!
manga is so good to read that it hurts when I finish a volume. I'm jonesin' for a "So Cute" fix as I write this. Some people would do anything for a Klondike bar...
So Cute it Hurts!! Volume 10
is a fun read. I am shocked by how passionate the declarations of love are. While I was reading this, I was sure I would come across a scene depicting someone giving up the boo-tay, but that didn't happy. The characters, however, did stare deeply into the eyes of the persons upon which they are crushing. Read this! The creator and her characters are all in.
I READS YOU RECOMMENDS:
Anyone who reads high school shojo romantic comedies should read the Shojo Beat title,
So Cute it Hurts!!
A
Last Updated: May 19, 2020 - 12:25