So Cute It Hurts!!: Volume 9 manga review
By Leroy Douresseaux
October 16, 2016 - 19:25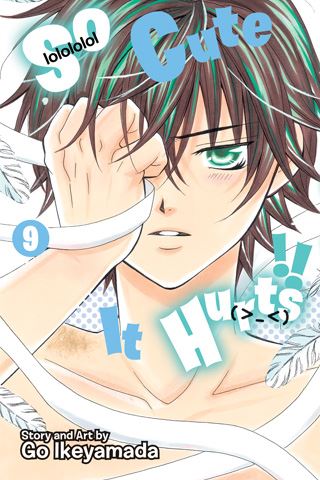 So Cute It Hurts Volume 9 cover image
Rated "T" for "Teen"
Megumu "Mego" Kobayashi
(a girl) and
Mitsuru Kobayashi
(a boy) are twins. 15-year-old Megumu is a full-on otaku and a history nerd, while Mitsuru, the popular and successful high school jock, is terrible at history. One day, dark-haired Mitsuru concocts the idea that he should put on a blonde wig and dress up as Megumu and attend her school,
Tosho High
. Meanwhile, Megumu will wear a dark wig, dress like Mitsuru, and take his history exams. This is not the last time the twins will switch places, especially when love is involved..
So Cute it Hurts!!

, Vol. 9
(Chapters 41 to 45) opens with a showdown. The battle of wills involves Megumu's boyfriend,
Aoi Sanada
, and
Chiharu Uesugi
, the new transfer student at
Akechi Boys High School
. Now, Megumu will learn the real story behind Aoi and Uesugi's past relationship, but Uesugi knows things that Megumu needs to know. Will this past strengthen Megumu and Aoi's relationship or break them apart?
THE LOWDOWN:
Yeah, guys, I still enjoy reading the
So Cute it Hurts!!
manga? Dear readers, I am certainly not in its target audience, but, darn it, I like this manga anyway.
So Cute it Hurts!! Volume 9
digs into both Aoi and his friend-turned-rival Uesugi's past, which clears up some of the mystery surrounding Aoi. We also see the development of a curious love triangle, which adds a little spice to the bubbly romance.
So Cute It Hurts!!
is such a fun read. It's so cute, but its cuteness is not terminal to the series. Warm and cuddle, you know you want this, shojo manga fans.
POSSIBLE AUDIENCE:
Anyone who reads high school shojo romantic comedies should read the Shojo Beat title, S
o Cute it Hurts!!
A
Last Updated: May 19, 2020 - 12:25