So Cute It Hurts!!: Volume 5 manga review
By Leroy Douresseaux
February 21, 2016 - 16:23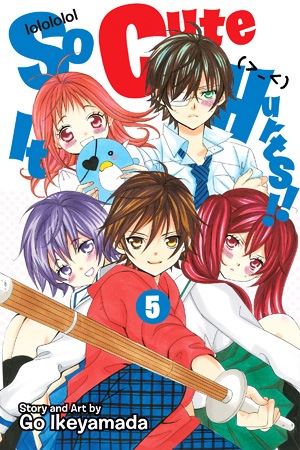 So Cute It Hurts Volume 5 cover image
Rated "T" for "Teen"
Megumu "Mego" Kobayashi
is a 15-year-old girl; she has a twin brother,
Mitsuru Kobayashi
, who is the older of the two. Megumu is a full-on otaku and a history nerd, while Mitsuru, the popular and successful high school jock, is terrible at history. One day, dark-haired Mitsuru concocts the idea that he should put on a blonde wig and dress up as Megumu and attend her school,
Tosho High
. Meanwhile, Megumu will wear a dark wig and dress like Mitsuru and take his history exams. This is not the last time the twins will switch places, especially when love is involved..
As
So Cute it Hurts!!

, Vol. 5
(Chapters 21 to 25) opens, Megumu is flush with the afterglow of her first date with
Aoi Sanada
, the boy she met at Mitsuru's school,
Akechi Boys High School
. On the other hand, Mitsuru looks like death-warmed-over because
Shino Takenaka
, the girl he met at Megumu's school, is in love with someone other than him.
Mitsuru never told Shino how much he loves her, but now she is telling him about
Koji Ishida
, a college student who was once a tutor at their school. Mitsuru believes that Koji is just a playboy, but when he sneaks onto the campus of
M College
, he will learn something that will lead him to act totally out of character. Plus, Megumu and Mitsuru become second-year students.
THE LOWDOWN:
The
So Cute it Hurts!!
manga is so cute it hurts... in a good way. This series from creator
Go Ikeyamada
did not turn out to be the one-note, high school shojo romance I thought it might become. I have to admit that I am impressed with how easily Ikeyamada is able to get Megumu and Mitsuru to switch identities in ways that do not seem too convenient.
So Cute it Hurts!! Volume 5
makes two time-jumps. The biggest makes the leads and the supporting cast change grades as they become second-year high school students. That allows the different interpersonal relationships to evolve, and it also allows the characters to change even a little bit. But I'll keep it simple:
So Cute It Hurts!!
is just a delight to read. After I finished Vol. 5, I could have read another few chapters.
POSSIBLE AUDIENCE:
Readers looking for gender-bending, high school shojo romantic comedies will want
So Cute it Hurts!!
A
Last Updated: January 24, 2022 - 11:00