So Cute It Hurts!!: Volume 3 manga review
By Leroy Douresseaux
October 2, 2015 - 12:33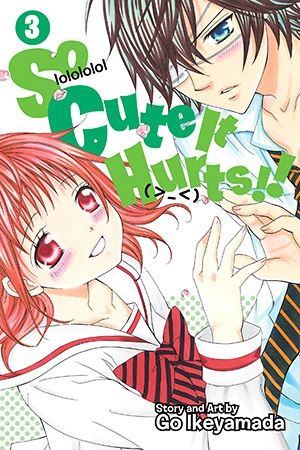 So Cute It Hurts Volume 3 cover image
Rated "T" for "Teen"
Megumu "Mego" Kobayashi
is a 15-year-old girl; she has a twin brother,
Mitsuru Kobayashi
, who is the older of the two. Megumu is a full-on otaku and a history nerd, while Mitsuru, the popular and successful high school jock, is terrible at history. The dark-haired Mitsuru concocts the idea that he should put on a blonde wig and dress up as Megumu and attend her school, Tosho High. Meanwhile, Megumu will wear a dark wig and dress like Mitsuru and take his history exams, thus helping him to get passing grades. Then, each sibling finds love at the other's school.
As
So Cute it Hurts!!

, Vol. 3
(Chapters 11 to 15) opens, a mishap in
Aoi Sanada
's bathroom reveals Megumu's secret to him. Then, there is another accident and Aoi, who cannot get within two feet of a girl, needs an ambulance. Now, Megumu is confronted with the fact that she lied and kept lying to her brother's classmate with whom she did not expect to fall in love.
Meanwhile, over at Megumu's
Tosho High
, Misturu has his own accident that reveals his secret to mean girl, 16-year-old
Azusa Tokugawa
. Now, Mitsuru is sure that Azusa will reveal to everyone that he has been disguised as Megumu and is attending the all-girl school. But Azusa will surprise him and certainly surprise herself...
THE LOWDOWN:
The
So Cute it Hurts!!
manga is not a fluke. I like it, and I am happy that this series by creator
Go Ikeyamada
did not turn out to be a one-note, high school shojo romance. It is hard to be one-note when cross-dressing is involved.
So Cute it Hurts!! Volume 3
, like the previous volume, proves to be a big surprise. In or out of disguise, the lead characters find themselves in comprising situations that are witty, even uproarious. Lies lead to more lies, but then, lies can also lead to sweet complications.
So Cute It Hurts!!
is a delight to read and will likely be so for some time to come.
POSSIBLE AUDIENCE:
Readers looking for gender-bending, high school shojo romantic comedies will want
So Cute it Hurts!!
Rating: A /10
Last Updated: August 31, 2023 - 08:12