So Cute It Hurts!!: Volume 2 manga review
By Leroy Douresseaux
August 14, 2015 - 20:41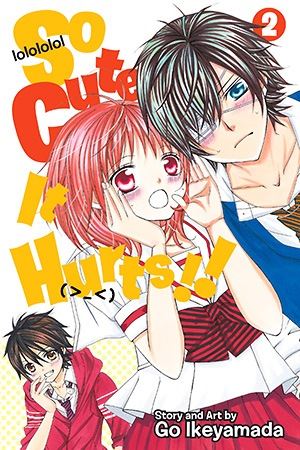 So Cute it Hurts Volume 2 cover image
Rated "T" for "Teen"
Fifteen-year-old
Megumu "Mego" Kobayashi
has a twin brother,
Mitsuru Kobayashi
, the older of the two. Megumu is a full-on otaku and a history nerd. Mitsuru, the popular and successful high school jock, is terrible at history. The dark-haired Mitsuru concocts the idea that he should put on a blonde wig and dress up as Megumu and attend her school,
Tosho High
. Meanwhile, Megumu will wear a dark wig and dress like Mitsuru and take his history exams, thus helping him to get passing grades. Then, each sibling finds love at the other's school.
As
So Cute it Hurts!!

, Vol. 2
(Chapters 6 to 10) opens, Megumi finds herself falling deeper in love with Aoi Sanada, a tough guy at her brother's school,
Akechi Boys High School
. However, she must play her feelings as that of one male friend to another, especially when she discovers that Aoi has a peculiar reaction to girls... depending on the circumstances.
Meanwhile, at Megumi's school, Mitsuru, in disguise, has proved to be a popular girl, but he has fallen in love with a deaf student,
Shino Takenaka
. Now, Shino has something that she is desperate to share with Mitsuru, and it will come as a shock to both Mitsuru and Megumi.
THE LOWDOWN:
I have to admit that I am sold on the
So Cute it Hurts!!
manga. However, I must also admit that this gender-bending comedy can be mind-bending when trying to keep up with identity swaps, secret crushes, and unknown relationships.
So Cute it Hurts!! Volume 2
is a big surprise. It is obvious that this manga's central conceit can only go so far, but the shift is coming sooner than I expected. Still, this series is such an utterly delightful read, as both a comedy and a romance, that I can't wait to read more.
POSSIBLE AUDIENCE:
Readers looking for gender-bending, high school shojo romantic comedies will want
So Cute it Hurts!!
Rating: A /10
Last Updated: August 31, 2023 - 08:12