Snatcher Review
By Jonathan Mills
July 23, 2006 - 01:21
The game Snatcher has been remade a few time's, one of the best and also rarest is the Sega CD version Developed by Hideo Kojima (of Metal Gear fame) and Konami, it was localized and released stateside in 1994.

Your eye's did not trick you, I said Sega CD. Let me explain.

I'm a big fan of the cyberpunk Genre, Cyberpunk is a sub-Genre of Sci-if.

Definition taken from the-underdogs.org

Cyberpunk: A science fiction genre set in a dark, futuristic world where information is a powerful commodity, cybergenic augmentation is commonly practiced, and computers are linked globally and permeates every aspect of daily life. The majority of population lives in urban areas, and corporations hold great power, influencing governments. Rebellion against centralized authority are central themes of the genre.

Some example's of Cyberpunk games would be:

Deus Ex
Deus Ex: Invisible War
Snatcher
Dream Web
Beneath a Steel Sky

My fondness for the Genre lead me to go out and search for game's, new and old, that would satisfy this urge I had to play a good cyberpunk game. The original plan was to find an old DOS game, early 90's, like Dreamweb (which I loved) but I ended up finding something that would cause a lot of aggravation, not the game, but actually how to play it.

Snatcher was the game I found, I read nothing but praise from people, how it was so overlooked and such. My curiosity got to the point where I obsessed about playing it, but then, and I'm embarrassed to say, seeing as how i'm such a hardcore gamer, I realized that the version everyone was talking about was for the Sega CD and not the PC version, which I just assumed.

I'm not going to buy a 15 year old Sega CD that i'sent sold anymore and had very few original games, I knew that from the get go, the first thing that popped into my head as an alternative were emulators (an emulator is a program that allows your PC to play games that were originally desinged for consoles). Emulation is a touchy subject, I will not use Comicbookbin as the fourm to express my opinion about it, but, suffice to say, downloading a game/music/movies, etc is stealing, and I don't have to tell you if stealing is wrong or not.

Eventually, what I ended up deciding was that i'd buy the game, but use an emulator to play it. I researched and found an emulator that played Snatcher perfectly on the PC, then, used ebay and bought the actual game (which because of it's rarity, was quite expensive) I could sit here for hours and explain to you why this isn't wrong, heck, if the Sega CD was still in commission, i'm sure Sega wouldn't mind at all, considering that Company's actually lose money on Hardware (Hardware is almost always sold for less then it costs to make) but i'm not, because even still, it blur's the line between what's legal and not, I won't condone downloading game's (though I do have an opinion on that, which I won't express at Comicbookbin) , but I will say this, their is a need for hardware emulation, simply so that these works of art arent lost forever.

Snatcher is more or less like a PC adventure game, though slightly different. All of the actions are menu driven, the commands usually include Move, Look, Investigate as well as your possessions and the control over your robot (named Metal Gear actually). The action takes place over static screens that sometimes include animation. Their are also action sequences that can be carried out with a light gun or the standard controller. The bulk of the game has you talking to people and investigating area's, you better like reading, because their's a lot of it.

The story deals with you, Gillian Seed, a Junker, having to investigate the cities problem of snatchers, Robots, for lack of a better word, that kill people and assume their identity. The story of the game is fantistic and has to be, as it's the driving point, that will make you want to continue playing.




Because of the CD medium, the game boasts some pretty good sprite FMV's and lot's of good voice acting, as well as some excellent music, both in composition and quality. The game is also of perfect length for this type of game, you can finish it in about 12 hours.

The only real negative to speak of is the tons of text you'll be reading, i'm all for reading, but sometimes, some of the stuff seems unnecessary. Still, this is a minor gripe. The few action sequences may also be a problem for some people.

Snatcher for the Sega CD is a great game, it's a game that I had never heard of, and that's a shame, game's like this are overlooked all the time, the only difference here is that not only was it overlooked, but it was overlooked on a system that failed miserably, and as such, it's mostly been forgotten. It shouldn't be.

If your into PC type Adventure games, play it anyway you can.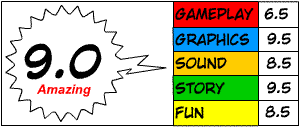 Overall score is not based on a average
jonathanmills@comicbookbin.com
Last Updated: September 6, 2021 - 08:15