Comics / Comic Reviews / More Comics
Silver #5 comics review
By Leroy Douresseaux
July 7, 2015 - 19:39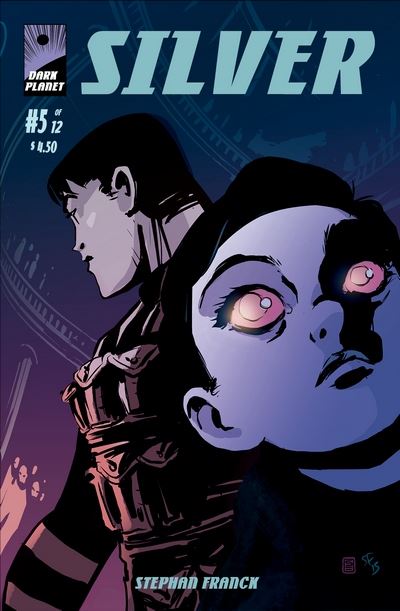 Silver #5 cover image
Silver
is a black and white, 12-issue comic book miniseries written and drawn by
Stephan Franck
, a writer and director of animated films. Published by Dark Planet Comics,
Silver
extends the fictional world of Bram Stoker's 1897 novel,
Dracula
, into the 1930s. The series stars con man
James "Finn" Finnigan
, a thief extraordinaire who plans to steal silver from the living-dead.
Silver
opens in New York City, 1931. The story opens at the Harker Foundation, which was created by the recently deceased Jonathan Harker and his late wife, Wilhelmina "Mina" (Murray) Harker. While crashing an auction, Finnigan accidentally stumbles into a crypt where he finds an ancient bar of silver. This begins his quest to pull of the biggest heist of the last ten centuries. Beginning with his partners, Ed Mullins and Brantley, Finnigan begins to build a team to pull of this heist. He adds Rosalynd Van Helsing (a.k.a Rosalynd Sledge); the actor, Hamilton "Ham" Morley; the forger,
Mister Moineaux
; and the boy who sees the future,
Tao
.
Silver

#5
(entitled "Night of the Duvaliers") opens in April 1931, aboard the
Orient Express
. Finn and company managed to get Hamilton invited to a very exclusive vampire event, using Hamilton's skills as an actor and the art of the pickpocket. As the team catches its collective breath, the story moves into the secret world of the vampires. It seems that members of the vampire elite are positioning themselves to pick a bride for a king, but
Lillian
has something to say about that.
THE LOWDOWN:
Reviews of the
Silver
comic book series can make a reviewer repetitive. Every issue, thus far, has been exceptional, and
Silver
#5 is no exception to that. This fast moving, old-fashioned tale has the spirit of movies like
Raiders of the Lost Ark
and the 1999 version of
The Mummy
, but steeped in the Gothic atmosphere of Bram Stoker's novel, Dracula.
Although Franck works in animation, he is proving to be a master of the art of comic book storytelling. He is a genuine inheritor of the glorious black and white comic art of Alex Toth, and his work recalls the 1950s horror comics of Steve Ditko. If you are turned off by vampires, are you also turned off by great comic books? There may not be a better original vampire comic book in America than
Silver
, and it is also one of the best comic books currently being published in America.
POSSIBLE AUDIENCE:
Fans of adventure comic books will want to buy
Silver
.
[Silver #5 contains another "Under the Hood" essay, in which Franck shows the process of creating Silver's first full-bleed, double-page spread.]

http://darkplanetcomics.com/
facebook/darkplanetcomics
Last Updated: February 5, 2023 - 09:06