Shin Megami Tensei (KAHN): Volume 1
By Leroy Douresseaux
Mar 26, 2008 - 11:32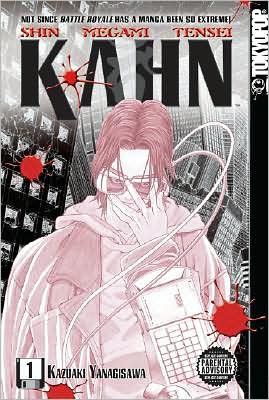 Thanks to barnesandnoble.com for the image.
The action/dark fantasy (horror) manga,
Shin Megami Tensei (KAHN)
by manga-ka
Kazuaki Yanagisawa
, is the sequel to
Shin Megami Tensei: if
, itself a spin-off of the console role playing game,
Shin Megami Tensei
.
Shin Megami Tensei (KAHN)

, Vol. 1
focuses on distressed, rebel teenager,
Nobu
. His old high school,
Karukozaka High School
, was sucked through a portal into the
Underworld
, where Nobu and his fellow students fought hordes of demons. In the end, only Nobu and a teen girl named
Yumi
returned to Earth, but they're separated and neither knows where the other is. However, the demons are on Earth searching for Nobu.
Tollman
, a mysterious demon lord, is determined to have Nobu serve him and is willing to use Yumi as bait.
THE LOWDOWN:
Rather than emphasize gothic style or lavishly-illustrated storytelling,
Shin Megami Tensei (KAHN)
is straight-forward horror. Edgy rather than moody, this manga is a venerable fugitive story, which finds the hero always on the run. Nobu's back is against the wall – pressed there by pure viciousness and evil. The art by Kazuaki Yanagisawa is clear, with Yanagisawa eschewing deformed characters for layered and precision, fined-tuned toning. It's like a high-definition TV version of comic book art, and it serves this matter-of-fact, high-octane, semi-splatter fest very well.
POSSIBLE AUDIENCE:
Horror fans that don't care for TOKYOPOP's usual output of gothic or gothic infused horror will find this edgy, violent, action-oriented horror to be quite engaging.
B+
Last Updated: Jun 26, 2018 - 9:28