Comics / Manga / Yaoi Manga
Duo Brand's Shards of Affection (Yaoi)
By Leroy Douresseaux
Dec 24, 2008 - 18:41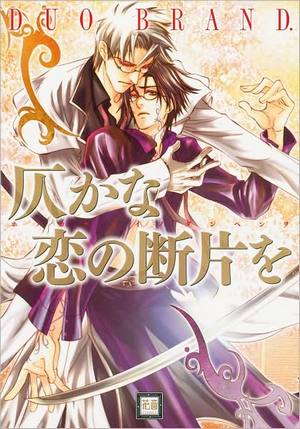 The cover illustration featured in the above image of the Japanese edition's cover is also used for June Manga's edition.
Rated "M" for "Mature Audiences 18+"
Shards of Affection is a collection of Boys' Love (BL) stories from Duo Brand, the pen name of the manga-ka duo Haruka Akatsuki & Nobuyoshi Watanabe. The stories in this collection specifically belong to the BL subset, yaoi manga. These interconnected tales involve supernatural romance, and like many such tales, the supernatural gets in the way of romance and even takes the edge off the sex scenes.
The element which most unifies the stories in Shards of Affection is a group of Goshintou, which are demon-destroying swords that can take human form. Storylines and characters weave in and out of the seven stories contained here – connecting them by themes, plots, or events. There are two primary romances in Shards of Affection. One love story involves a Goshintou trying to help another finds his blade before he fades away, which is what happens when a Goshintou loses his sword. The second romance stars a young human named Toranosuke, who is chasing the vampire-like monster, Shenjing, whom Toranosuke believes stole his brother's soul. Shenjing is actually in love with Toranosuke, although he can't touch the young man lest he steal his life away.
The Toranosuke/Shenjing stories ("Midday Linchpin" and "Full Moon Linchpin") are actually a good read, but Duo Brand would have been better off devoting at least an entire book worth of tales to Toranosuke's quest. In their current form, these two stories feel like shards of longer, more interesting tales.
Another quality love story is "Dangerous Hazy Moon," the story of Ei, a priest who falls in love with Haruaki Kunou, a laid-back young research scientist who visits his church around lunchtime. Haruaki is having trouble at work with an aggressive boss who takes sexual harassment to the darkest places. Ei offers comfort and advice to his young friend, but secretly wants to have a deeper relationship. "Dangerous Hazy Moon," is actually a pretty good story with strong romantic sequences and a few scenes of substantial drama.
Shards of Affection should have had more stories like "Dangerous Hazy Moon." As it is, both the stories and characterizations in this volume exist as little more than shards. However, Duo Brand's lively visual storytelling, visually imaginative compositions, and solid draftsmanship mark this duo as promising creators.
B-
Shop at the Yaoi Store.
Last Updated: Jun 26, 2018 - 9:28