Seraph of the End: Vampire Reign Volume 2 manga review
By Leroy Douresseaux
September 3, 2014 - 15:28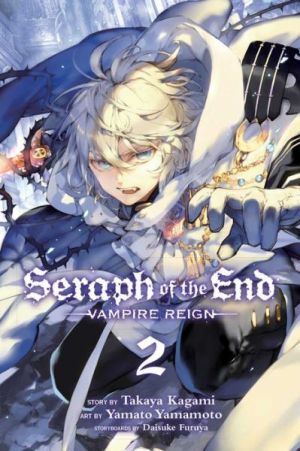 Seraph of the End: Vampire Reign Volume 2 cover image is courtesy of barnesandnoble.com.
Follow me on
Twitter
.
Rated "T+" for "Older Teen"
The Earth is ruled by vampires, a reign that begins in 2012 after the trumpets of the apocalypse proclaimed the fall of humanity. A mysterious virus kills almost all adult humans, sparing those younger than 13 years of age, who are subsequently enslaved as livestock for food. In 2016, the orphan
Yuichiro "Yu" Hyakuya
steps forward, determined to kill all vampires.
Seraph of the End: Vampire Reign

, Vol. 2
(Chapters 4 to 7) opens in the year 2020. Yu is a student at Shibuya High School #2. He would rather be a member of humanity's most elite Vampire Extermination Unit, the Moon Demon Company of the Japanese Imperial Demon Army.
First he has to prove that he is willing to work in a team, which is the last thing he wants. Getting along is also a problem for fellow student, Shiho Kimizuki, and he and Yu are constantly squabbling. Before long, they are going to get a chance to get what they want, but will they really be able to handle the dangerous power they seek?
Meanwhile, Yu's foster "brother," Mikaela "Mika" Hyakuya, thought to be dead, has his own bitter tale of survival to tell. [Spoiler!] He's now a vampire.
THE LOWDOWN:
Although I am a big fan of vampire manga, I was not necessarily interested in the
Seraph of the End: Vampire Reign
manga. Turns out, I thoroughly enjoyed reading the first volume. Illustrated by
Yamato Yamamoto
with story by
Takaya Kagami
and storyboards by
Daisuke Furuya
, Seraph of the End is post-apocalyptic with a suggestion of dystopia (politics) and a touch of an end-of-the-world scenario.
Much of the series' internal mythology is still unrevealed by the end of
Seraph of the End: Vampire Reign Volume 2
. For instance, there is apparently something called the
Seraph of the End
. I am intrigued. How long do I have to wait?
Seraph of the End reminds me a little of D.Gray-man and Vampire Hunter D, and it fits right in with the juvenile action-fantasies that are a staple of Shonen Jump. Early in the narrative, the series is still in introduction mode and will probably be for several more volumes. Still, vampire manga fans will want to try this dark science fiction series.
POSSIBLE AUDIENCE:
Fans of vampire manga will want to try the Shonen Jump Advanced series,
Seraph of the End: Vampire Reign
.
Last Updated: August 31, 2023 - 08:12