Comics / Comic Reviews / More Comics
Sentient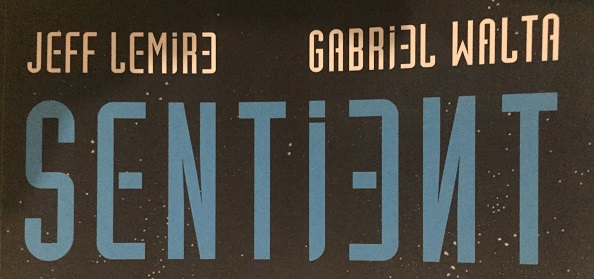 By Patrick Oliver
February 11, 2023 - 11:49
Eisner Award-winners, Jeff Lemire and Gabriel Walta, bring us a moving, engaging and beautiful science fiction tale of survival and friendship.
I ordered this graphic novel a few weeks ago and got it today, it is the collection of issues 1-6. I hadn't read a new graphic novel in about a year, so you won't be surprised that I read 'Sentient' in one sitting. yes it was that good.
Have no doubts, this is a beautifully rendered tale. The text is realistic, concise and nuanced and the visuals and designs are quietly superb.
The story focuses on a 'booster ship', a ship with more people and equipment to help a colony in deep space that has been established because the Earth is rapidly becoming uninhabitable. There are people that believe this colony should be free of Earth's influence and are not afraid to use violent means to achieve this. This where the multi-cultural crew of the USS Montgomery come in. They and their children fall foul of the separatists' plans, leaving several crew members incapacitated and the ships artificial intelligent computer, Valerie, in temporary (and reluctant!) command. It's a great premise, with the after effects of the tragedy and the crews' interactions with each other and the AI handled well.
I think that this is a must for many science fiction fans and I am looking forward to reading 'Sentient' again very soon.
Last Updated: August 31, 2023 - 08:12