Comics / Manga / Yaoi Manga
Selfish Mr. Mermaid: Volume 1 (Yaoi Manga)
By Leroy Douresseaux
Mar 8, 2008 - 14:47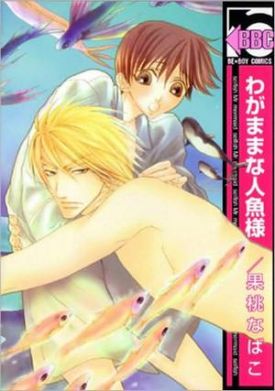 This original Japanese cover image has been redesigned for the American release. The red border has been removed.
TRANSLATION: Sachiko Sato
When the irritatingly passive Kanan goes upstairs to inform his neighbors that their bathtub is leaking water into his apartment, he doesn't expect to discover a mermaid reclining in the bathtub. That's the scenario in Selfish Mr. Mermaid, Vol. 1, a BL (boys' love) manga by Nabako Kamo.
Mr. Mermaid, also known as Kaioh – Princess Kaioh, that is, moves into Kanan's apartment because he likes the shy young man's bathtub (plus, he's kicked out of his own pad). This aquatic prince is selfish and spoiled, and has a bullying attitude, but he's a champ in the bedroom. Before long, Kaioh has Kanan running around his own apartment cooking and cleaning for Kaioh, but at night Kaioh has Kanan climbing the walls from the good loving.
THE LOWDOWN: Without a doubt, Selfish Mr. Mermaid is my favorite yaoi. Mange-ka Nabako Kamo uses the ingredients: fantasy, drama, romance, and comedy in the perfect amounts. There's something both annoying and sweetly endearing about Kanan's passivity – his hyper-submissive need to please and be loved and counted on. Kaioh is a dashing rogue, a petulant jock, and the kind of assertive lover that is a staple of American romance novels. Kamo's art is spiritually and somewhat visually similar to Michael Turner's work on Fathom, but with more skill in cartooning the human figure. The pretty art and the visual potency of the romance make for a breezy highly enjoyable read.
POSSIBLE AUDIENCE: When it comes to readers for Selfish Mr. Mermaid, they would be the usual suspects among fans of yaoi, and once again, I probably like it more than most.
A
Last Updated: Jun 26, 2018 - 9:28