Comics / Manga / Yaoi Manga
Ayumi Kano's Sea View (Boys' Love)
By Leroy Douresseaux
Jan 10, 2009 - 4:49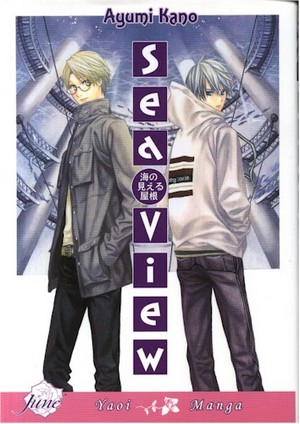 Sea View cover image is courtesy of Anime Castle Books.
Rated "YA" for "Young Adults 16+"
The Boys' Love (BL) manga, Sea View, from creator Ayumi Kano (Passionate Theory), collects two graphic novellas about young men meeting under tense circumstances. The central question of each story is will the apprehensive first meeting turn out to be merely an awkward first step on the way to a deep relation.
In the title story, Sea View, teenage Kei Tsuwabuki arrives on the distant island home of his grandfather. Kei hasn't seen his grandfather, the acclaimed architect, Professor Tatsumi Hara, since he was a small child, but he's been writing letters to Professor Hara for years. Suddenly, those letters stopped, so Kei has come to find out why.
Kei enrolls at the school where his grandfather taught, and meets the shy and aloof Michiru Bangi, an exceptionally talented architectural student. Michiru also might have been Professor's Hara's best student, but, like the rest of the island's inhabitants, he's seemingly reluctant to help Kei find the location of the professor's house. Kei is determined to solve the mystery, but the biggest mystery may be why Michiru, the person who won't help him, remains by his side.
In Thou of the Blossoms, talented young photographer Sayatsugu Isumi has succeeded where professional photographers have failed. The famous and wealthy Ichimura family has given its consent allowing Isumi to photograph their celebrated private flower gardens. At the shoot, Isumi meets the shy and retiring heir of the family, Akira Ichimura. Akira is dismissive of Isumi's presence, but when Isumi accidentally discovers Akira's beautiful secret, a friendship just might begin.
Ayumi Kano's BL manga are compelling Young Adult (YA) dramas about friendships between high school age boys that start off with difficulty, but grow as the boys overcome conflicts and obstacles. Her dialogue effectively moves the narrative and colors the characters, but it is the beautiful art of Kano's manga that tells the story. Drawn in such a way that the toning is the most important element, the art of Sea View give the stories of Kei & Michiru and Isumi & Akira each a dream-like aura full of gentle mystery and subtle suspense. Sea View captures the mystery of relationships – of how strangers can find enough in common to connect on a deeper level than being just good friends.
Rating: B+ /10
Last Updated: Jun 26, 2018 - 9:28