Comics / Comic Reviews / More Comics
Savage Dragon #140
By Leroy Douresseaux
November 12, 2008 - 13:46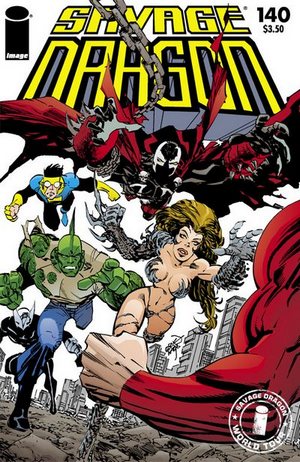 Cover image of Savage Dragon 140.
Savage Dragon joins a band of the elite heroes of the Image Universe: Invincible, ShadowHawk, Spawn, and Witchblade, to take on his longtime enemy, Solar Man. Solar Man, an alien visitor from another world, is determined to kill all criminals – ALL criminals – including Al Simmons AKA Spawn.
THE LOWDOWN: I've always believed that Savage Dragon looks and feels like early to mid-1980s Marvel Comics titles, particularly those drawn by artists who were also the writers, such as Fantastic Four by John Byrne and The Mighty Thor by Walter Simonson, right down to the lettering. Savage Dragon #140 ("United We Stand"), the first of a two-part tale, only reinforces my belief, which is why I usually enjoy Savage Dragon. Creator Erik Larsen isn't creating great comics with Savage Dragon, but every issue Larsen tries to create a comic book that is great entertainment.
Savage Dragon #140 is pretty good. It's breezy and light reading, and Larsen makes excellent use of his fellow Image creators' characters, emphasizing their unique abilities and powers instead of trying to mine their personalities for stunning psychological insight. Larsen's art, in both composition and spirit (if not draftsmanship), recalls 80s era Byrne, Simonson, and Frank Miller. On the John Byrne side, Solar Man seems like a pastiche of John Byrne's 80s rendition of Superman.
POSSIBLE AUDIENCE: Beyond Savage Dragon's regular readers, I think superhero comic book fans who remember 1980s comics will also enjoy this.
B
Last Updated: September 6, 2021 - 08:15