Comics / Manga / Yaoi Manga
Satomi Sugita's Candy (Yaoi)
By Leroy Douresseaux
Aug 5, 2008 - 9:51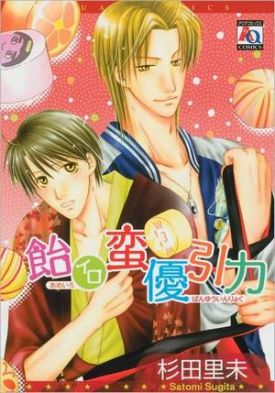 June Manga's edition will keep the cover art from the original Oakla Publishing edition (above), but replace the Japanese cover copy with English text.
Rated "M" for "Mature Audiences 18+"
When Tooru Katsuragi was an awkward little boy, he tagged behind his cousin Takara Katsuragi, a big, strapping lad who devoted himself to the lonely Tooru. Years later, Takara moves into the home Tooru shares with his older brother Hajime and younger brother Futaba. Now, however, Takara is sullen and moody and even has a criminal record; plus, he's no longer warm to and protective of Tooru. What Tooru fails to understand is that Takara is the one who needs Tooru, now, and Takara needs him bad… real bad.
THE LOWDOWN: Candy is a slightly sweet (what else?) romantic drama by Satomi Sugita. This yaoi manga (a boys' love manga that depicts explicit sex between male lovers) mixes just enough comedy to lighten the mood, because this tale should be described as "lovely" and "gentle" rather than "sad" or "moody," although Takara has perfected the sour face.
Seriously, Sugita's art offers a variety of flavors when it comes to the mostly entirely male cast. Takara's features, especially his face, are made of sharp lines that reflect his wily nature, but give him the chiseled looks of an Old Hollywood male actor (perhaps, like a Clark Gable). Since Tooru is the "uke" or 'bottom" in this relationship, Sugita draws him with large, doe eyes, but gives him the lithe body of an athlete (maybe a runner), so he maintains some maleness and doesn't really come across as girlish. Playing up Tooru's masculinity adds roadblocks and conflict, in a visual sense, for the inevitable Takara/Tooru romance. That strengthens and heightens the sense of drama.
POSSIBLE AUDIENCE: Female yaoi fans will find the funny and tartly sweet Candy a treat.
B+
Last Updated: Jun 26, 2018 - 9:28