Sakura Hime: Volume 10 manga review
By Leroy Douresseaux
June 6, 2013 - 18:18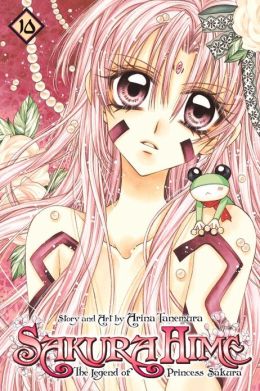 Sakura Hime Volume 10 cover image is courtesy of barnesandnoble.com.
Rated "T" for "Teen"
Fourteen-year-old Princess Sakura has a destiny that is both terrible and great. She is the granddaughter of the mysterious moon princess, Kaguya, and now possesses "Chizakura," her grandmother's mystic Bloody Cherry Blossom Sword. Sakura uses the sword to destroy the Youko, man-eating spirits that originate from the moon. However, Sakura has a dark side and a "soul symbol" that means "destroy." Her brother, Enju, hates humans and wants to reinstate the moon kingdom.
As Sakura Hime: The Legend of Princess Sakura, Vol. 10 (Chapters 35 to 39) begins, Rurijo, a follower of Enju, helps Hayate with the spell that sometimes changes him into a frog. Hayate's longtime friend, Kohaku, however, also has a surprise for him. Meanwhile, The Emperor's act of betrayal changes everything.
THE LOWDOWN: The Sakura Hime: The Legend of Princess Sakura manga takes what is familiar about the oeuvre of Arina Tanemura and gives it a twist. It is sweetly romantic like a high school shojo romance. Sakura Hime is also comic and playful. It is drawn in Tanemura's heavily textured, layered, and ornate style. Sakura Hime, however, is surprisingly violent.
Truthfully, Sakura Hime is like a box of chocolate; you never know what you'll get (as Mrs. Gump said). Sakura Hime: The Legend of Princess Sakura Volume 10 is poignant and heartbreaking, but it is also sudsy like a soap opera and deliberately silly at times. However, there is a blatant act of betrayal and a shocking act of violence in the middle of this volume that exemplifies how this series will always keeps readers on their toes, never really sure when the next story bomb explodes.
There is also an extra nicety in this volume that appeals to the nerd in me. We get to see a few drawings by Tanemura's assistants, Ichi and Hibiki.
POSSIBLE AUDIENCE: Fans of the shojo manga of Arina Tanemura will want Sakura Hime: The Legend of Princess Sakura.
Rating: A- /10
Last Updated: August 31, 2023 - 08:12