Sakura Hime: The Legend of Princess Sakura Volume 8
By Leroy Douresseaux
June 19, 2012 - 15:13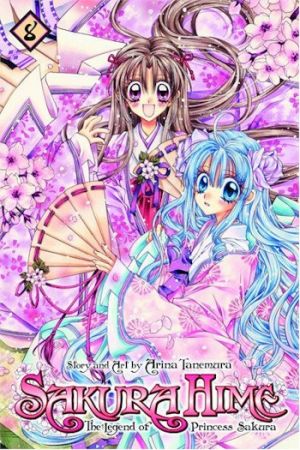 Sakura Hime Volume 8 cover image is courtesy of Anime Castle Books.
Rated "T" for "Teen"
At 14 years of age, Princess Sakura has a destiny that is both terrible and great. Sakura is the granddaughter of the mysterious moon princess, Kaguya, and she now possesses "Chizakura," her grandmother's mystic Bloody Cherry Blossom Sword. Sakura uses the sword to destroy the Youko, man-eating spirits that originate from the moon. However, Sakura has a dark side and a "soul symbol" that means "destroy."
As Sakura Hime: The Legend of Princess Sakura, Vol. 8 begins, Sakura is enjoying some peace. Her brother, Enju, has disappeared, and his plot against her was destroyed by her friends. Now, Sakura can concentrate on her impending marriage to Aoba, but maybe it is not time for her to enjoy some peace. Princess Yuri wants Aoba, and she means to get him at any cost, especially if it costs Sakura.
THE LOWDOWN: This volume of the Sakura Hime: The Legend of Princess Sakura manga depicts a familiar shojo storyline. The heroine is so close to finally winning the boy she really wants in the way she really wants him. But wait! Another girl wants the heroine's boy, and the rival befriends the heroine in order to sabotage her.
It's fun in the way creator Arina Tanemura's brand of sweetness and sweetly pungent and dark are. Still, it's also a bit tedious. I'll view this as a respite from the intrigue Tanemura weaved the last view volumes.
POSSIBLE AUDIENCE: Fans of the shojo manga of Arina Tanemura will want Sakura Hime: The Legend of Princess Sakura.
Rating: B+ /10
Last Updated: January 24, 2022 - 11:00