Sakura Hime: The Legend of Princess Sakura Volume 6
By Leroy Douresseaux
January 30, 2012 - 14:38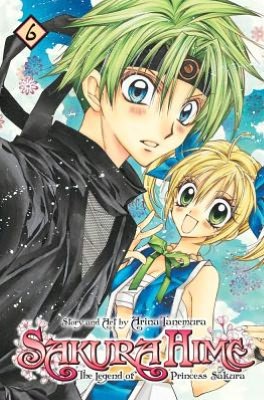 Sakura Hime Volume 6 cover image is courtesy of barnesandnoble.com.
Rated "T" for "Teen"
Fourteen-year-old Princess Sakura has a destiny both terrible and great. She is the granddaughter of the mysterious moon princess, Kaguya. Sakura now possesses "Chizakura," her grandmother's mystic Bloody Cherry Blossom Sword, which she uses to destroy the Youko, man-eating spirits that originate from the moon. However, Sakura has a dark side, because her "soul symbol" means "destroy."
As Sakura Hime: The Legend of Princess Sakura, Vol. 6 opens, Sakura remains a prisoner of Lord Enju, who is her long lost older brother, Kai. Sakura's friends have invaded Shura Yugenden, Enju's palace, to rescue Sakura. Like the Youko, Sakura and Enju also call the moon home. Now, Sakura tries desperately to convince her brother than not all humans are bad. Meanwhile, much of the story focuses on the origin and back story of Sakura's diminutive mononoke pal, Asagiri.
[This volume contains bonus material. There is a short story, "The Angelic Gold Coin of Maple Rose." "The Mascot Sports Festival" is a Miss Fortune bonus story. The Gentlemen's Alliance -Cross- (stylized as The Gentlemen's Alliance †) returns in a six pages of "Bonus Funnies."]
THE LOWDOWN: This volume of the Sakura Hime: The Legend of Princess Sakura manga offers the usual. However, much of this volume's narrative focuses on Sakura's companion and friend, Asagiri. The story of her past is heartbreaking, but in the sugary way Arina Tanemura usually depicts despair and heartache.
The two chapters about Asagiri ("A Snow Firefly Love Story" and "A Dark, Fiery Princess as White as Snow) are fairy tail-like. This is a story of hungry local gods, young love, tribal obligations, envy, and sacrifice with a touch of horror and sadness. It's better than the main story.
POSSIBLE AUDIENCE: Fans of Arina Tanemura will probably adore Sakura Hime: The Legend of Princess Sakura, which could also earn her new fans.
A-
Last Updated: February 5, 2023 - 09:06