Sakura Hime: The Legend of Princess Sakura Volume 4
By Leroy Douresseaux
October 8, 2011 - 15:13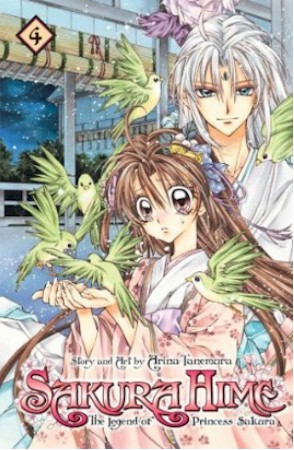 Sakura Hime Volume 4 cover image is courtesy of Anime Castle Books.
Rated "T" for "Teen"
Fourteen-year-old Princess Sakura has a destiny both terrible and great because she is the granddaughter of the mysterious moon princess, Kaguya. Sakura now possesses "Chizakura," her grandmother's mystic Bloody Cherry Blossom Sword, which she uses it to destroy the Youko, man-eating spirits originally from the moon. But even Sakura has a dark side.
As Sakura Hime: The Legend of Princess Sakura, Vol. 4 opens, Sakura has now fallen into the clutches of Lord Enju, who turns out to be her long lost older brother. Ensconced at Shura Yugenden, Enju's palace, Sakura discovers Rurijo, a young woman who looks and sounds exactly like her. Rurijo does not want anyone competing with her for Enju's attention, so she plots to kill Sakura.
THE LOWDOWN: Because it often acts like a monster fighting battle manga, one might forget that Sakura Hime: The Legend of Princess Sakura is a shojo romance. It is, however, edgy and violent, and while all manga from creator Arina Tanemura have at least a touch of edginess, Sakura Hime is violently, brutally edgy. In fact, the characters are often downright mean-spirited, and the threat of death hovers over all characters. Readers should not be fooled; the pretty art is just the candy coating to cover up the bitter chocolate underneath.
POSSIBLE AUDIENCE: Fans of Arina Tanemura will probably adore Sakura Hime: The Legend of Princess Sakura, which should earn her new fans.
A-
Last Updated: January 24, 2022 - 11:00