Sakura Hime: The Legend of Princess Sakura Volume 1
By Leroy Douresseaux
March 29, 2011 - 08:16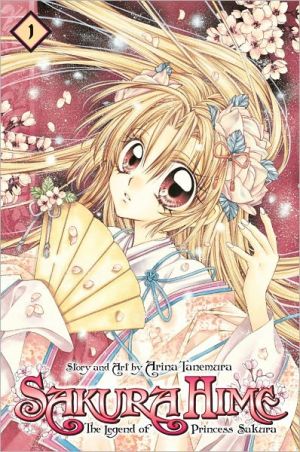 Sakura Hime Volume 1 cover image is courtesy of barnesandnoble.com.
Rated "T" for "Teen"
Sakura Hime: The Legend of Princess Sakura is a recent shojo manga (comics for teen girls) from Arina Tanemura (The Gentlemen's Alliance † and Full Moon). It is the story of Princess Sakura, the granddaughter of a mysterious moon princess. Sakura is a princess with a destiny both terrible and great.
In Sakura Hime: The Legend of Princess Sakura, Vol. 1, Sakura is about to meet her betrothed, Prince Oura, but first she must meet his emissary, Aoba, a boy who openly displays his disdain for Sakura. This isn't the only big change in her life, because Sakura is about to discover why she is forbidden from gazing at the night sky during a full moon. Could it have something to do with the man-eating spirits known as the "Youko?"
THE LOWDOWN: As is usual with Arina Tanemura manga, Sakura Hime: The Legend of Princess Sakura is about a plucky, magical girl taking on love and supernatural adversaries. As is also usual, Tanemura's trademark, sumptuous, tapestry-like artwork is omnipresent. What is different this time? Sakura Hime is more violent, edgier, and dare I say surprisingly tragic. The spunky heroine and art with sparkles and flower effects is still here, but the threat of death or even being eaten hangs over the story. Think of this as the familiar Tanemura flavors, but with a dark chocolate essence.
POSSIBLE AUDIENCE: Lovers of Tanemura delights will love the Sakura Hime: The Legend of Princess Sakura delight.
A-
Last Updated: August 31, 2023 - 08:12