Comics / Comic Reviews / More Comics
Chilling Adventures of Sabrina #5 comics review
By Leroy Douresseaux
May 19, 2016 - 21:03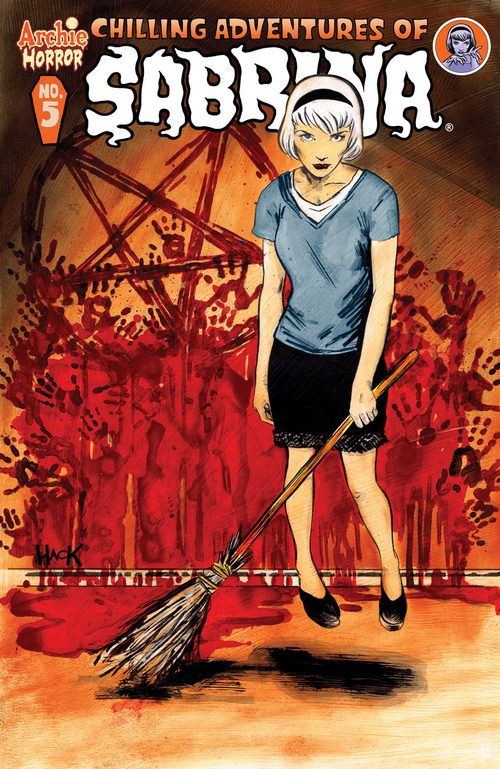 Chilling Adventures of Sabrina #5 cover image
"The Crucible" Chapter Five: "The Trial"

Rated Teen + (Violence and mature content)
Chilling Adventures of Sabrina
is one of two Archie Comics series that were re-imagined as horror comic books. The other is the zombie apocalypse series,
Afterlife with Archie
(a play on the title Life with Archie). Published under the "Archie Horror" imprint,
Chilling Adventures of Sabrina
takes the traditionally lighthearted
Sabrina the Teen-Age Witch
and re-imagines Sabrina's four-color world as darkly-hued place of witchcraft, Satanism, and murder-most-foul.
Chilling Adventures of Sabrina
is written by
Roberto Aguirre-Sacasa
; drawn by
Robert Hack
; and lettered by
Jack Morelli
. The story is set in the 1960s, with the current story line largely taking place in 1967.
Sabrina Victoria Spellman
is a 16-year-old who lives in
Greendale
with her aunts,
Hilda
and
Zelda
(two witches of the Satan-serving variety); her cousin,
Ambrose
(a warlock); and her familiar, a cat named
Salem
.
Chilling Adventures of Sabrina

#5
("The Trial") finds Sabrina facing the judgment of the
Witches' Council
for the sin of cavorting with a mortal. On the eve of her 16th birthday, Sabrina was to be baptized a full member of the
Church of Night
. However, her boyfriend,
Harvey Kinkle
, was tricked into interrupting the ceremony, which cost him his life. Now, Sabrina must prove that the incident was not directly her fault, or she will face unending torment.
Meanwhile,
Madame Satan
, the mastermind behind the disaster with Harvey, drafts two
Riverdale
high school witches,
Betty
and Veronica (yes, that Betty and Veronica), into her plot. Together, this trio will attempt to ensnare Sabrina into a dangerous ritual.
THE LOWDOWN:
It has been nearly a year since the publication of
Chilling Adventures of Sabrina
#4, and, if I remember correctly, there was a long wait between the publication of the first two issues of
Chilling Adventures of Sabrina
and the third and fourth issues. The previous four issues have been fantastic, so the length of time to grow
Chilling Adventures of Sabrina
installments were worth the wait.
Chilling Adventures of Sabrina
#5 is so good that I can't be mad. It is certainly worth the wait. Yeah, I'd like to read it more often, but while reading issue #5, the long delay between it and the fourth issue was the last thing on my mind.
Roberto Aguirre-Sacasa and Robert Hack have created a horror comic book for the ages. They are not defiling all-things Archie; rather, they are expanding the possibilities of the world of Archie Comics. I think that the possibilities for expanding that world into multiple genres are limitless, but that has rarely been tested. I also think writer Roberto Aguirre-Sacasa's work is the vanguard that led to the recent new-look Archie Comics.
With artist Robert Hack, Aguirre-Sacasa will remain at the forefront of a revolution.
Chilling Adventures of Sabrina
#5, a helluva occult comic, proves that.
POSSIBLE AUDIENCE:
Readers looking for exceptional and high-quality dark horror comics will want
Chilling Adventures of Sabrina
.
[This issue includes a preview of Afterlife with Archie #9.]
A
http://archiehorror.com/
Rating: A /10
Last Updated: August 31, 2023 - 08:12