Rure: Volume 1
By Leroy Douresseaux
Oct 2, 2007 - 13:19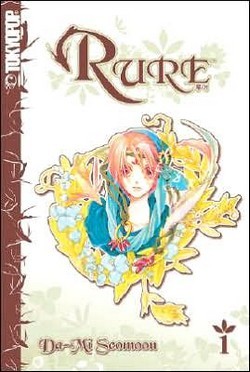 Thanks to barnesandnoble.com for the image.
Rure

, Vol. 1
introduces the reader to
Ha-Ru Shin
, and her family, which rules
The Last Island
. This secluded land of fisherman and superstition has a strong hold on Ha-Ru, for she is its heiress – set to inherit control of the island's political, religious, and financial powers. Suddenly, it is time for her to return from school in Seoul, South Korea to this remote island for a festival of ancestral rites, and her friends, the fun-loving teen girl
Joon-Hee
and the brash teen boy
Dong-Uk Lee
are joining her. They won't be going alone.
Ha-Ru's half sister, Mi-Ru Sung, must also return home for the rites. Ha-Ru and Mi-Ru have the same father, but Mi-Ru's mother was "the other woman," and Mi-Ru greatly resents her sister's chosen status on the island. On the night of the rites, Mi-Ru runs away, and Ha-Ru, who loves her sister, chases her. In a startling turn of events, both girls end up magically transported to another land – a mystical world of desert warriors, monstrous beasts, and demons. It's survival of the fittest, and Ha-Ru has to make sure they survive to find a way home.
THE LOWDOWN: Rure, a manhwa (Korean comics) series by Da-Mi Seomoon, traffics in high entertainment on two worlds. First, the world of The Last Island is a bubbling cauldron of family intrigue involving inheritance, gender roles, and bloodlines. Seomoon also delves deeply into the world of societal roles, community relationships, and shared beliefs, and although the material isn't exactly a college sociology text, Seomoon takes the subject matter pretty seriously for a comic aimed at teenagers.
Meanwhile, the second half of the book is a light comic fantasy – lots of romantic bickering (between Ha-Ru and teen warrior named Ku-Ya) with some action. The second half of the book is where Seomoon can show off the beautiful illustration skills and figure drawing (with an emphasis on livewire hairstyles).
POSSIBLE AUDIENCE: Being a strange hybrid of family soap opera and other-worldly fantasy, Rure skews towards shojo more than shounen.
B
Last Updated: Jun 26, 2018 - 9:28