Rough Stuff #8
By Leroy Douresseaux
May 21, 2008 - 08:00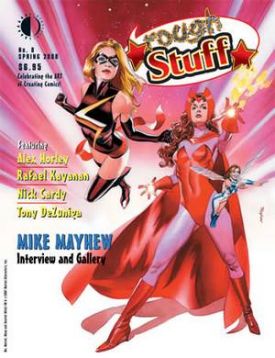 Mike Mayhew's painted cover for Rough Stuff #8 presents girl Avengers Ms. Marvel, the Scarlet Witch, and the Wasp.
Rough Stuff is a magazine from TwoMorrow Publishing and edited by respected comic book artist and inker, Bob McLeod. Rough Stuff celebrates the art of creating comic book art by showcasing, examining, and discussing the sketches, preliminary art, pencil art, and other pre-inked or pre-finished art that goes into creating the pages and covers of comic books.
Both this issue's cover feature and one of the featured artists are known for their cover paintings. Italian Alex Horley offers preliminary sketches, doodles, and pencil prelims – some of them compared to the finished paintings. Next, is rising star Mike Mayhew, who paints this issue's cover. Mayhew is known for his photo-realistic drawing style and for cover paintings on such comic book titles as Mystique, She-Hulk, and the Storm mini-series. An interview with Mayhew is conducted by Len Gould and features several pages of pencil and marker prelims that provide an impressive look at the processes behind Mayhew's paintings.
The unofficial theme for this issue, however, seems to be appreciating under-appreciated artists. To that end, McLeod opens the issue with a 13-page feature on beloved DC artist, Nick Cardy, probably best-remembered for his 1960's and 70's work on the Aquaman and Teen Titans comic book series. Both McLeod and Cardy offer commentary on several examples of Cardy's delicate pencils.
Next is an 11-page feature on Tony DeZuniga, the co-creator of the DC Comics characters, Jonah Hex and Black Orchid. Although known for his work on various Jonah Hex comics, DeZuniga is, like McLeod, an inker that can draw like both an illustrator and storyteller. That means that both men know how to "finish" or ink a penciled page so that the final art moves the narrative, establishes mood, and helps define the character respective to a moment in the story. As an example of that DeZuniga offers a page from issue #5 of Marvel's beloved Savage Sword of Conan magazine. With commentary by McLeod, we get an example of how the skilled DeZuniga brings this Conan story to life from John Buscema's pencils.
Then, McLeod brings us the otherworldly visual stylings and storytelling of Rafael Kayanan. A visualist with an imagination that is as potent as Bosch, Kayanan specializes in creating the ingenious and peculiar imaginary worlds of everything from Conan and Star Wars to Batman's Gotham City and Marvel Comics' sci-fi series. This 11-page section is a tour de force of inspired comic book and fantasy art – including a look at Kayanan's concept designs for the long-planned John Carter movie.
The icing on this delicious Rough Stuff #8 cake is Dominique Leonard's article, "Introduction to Belgian and French Comics," and it's a delight. This primer is just what someone who wants to know more about these comics needs, when a reference book is not available. Leonard, with a little help from McLeod, presents short biographical and informational pieces on such Belgian and French cartoonists and comic book artists as Hergé (Tintin), Peyo (Smurfs), Albert Uderzo (Astérix), Jean-Claude Mezieres (Valérian), and Jean "Moebius" Giraud (Blueberry), among others. This article makes Rough Stuff's $6.95 cover price seem like a steal.
A
To see art that Bob couldn't include in Rough Stuff because of space considerations go to www.bobmcleod.com/roughstuff.htm.
Last Updated: January 24, 2022 - 11:00