Rosario+Vampire: Season II Volume 3
By Leroy Douresseaux
February 17, 2011 - 09:13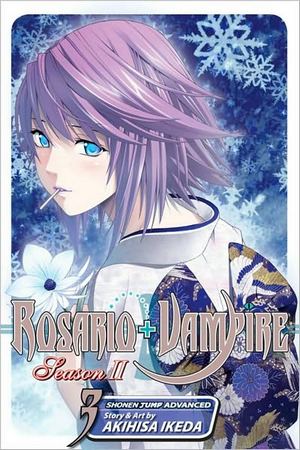 Rosario+Vampire: Season II Volume 3 cover image is courtesy of barnesandnoble.com.
Rated "T+" for "Older Teen"
He could not gain admission into any high school, so 15-year-old Tsukune Aono ended up at Yokai Academy. He soon learns that Yokai is a boarding school for monsters, and the first friend he makes, Moka Akashiya, is a teen vampire who just loves the taste of his blood. Tsukune survived Yokai, and now, he's a sophomore.
As Rosario+Vampire: Season II, Vol. 3 (entitled Snow Oracle) opens, the students have just learned that there is a werewolf on the loose. Not just any old lycan, this teen werewolf attacks girls and rips up their clothes. Tsukune and pals set a trap, but they may catch a culprit close to their hearts. Then, Tsukune and the girls travel to the land of snow fairies with resident snow fairy, Mizore Shirayuki. This isn't any old trip, however. It is time to celebrate the Flower Offering Ceremony, and the ceremony just might find Tsukune in the clutches of Mizore's embraces.
THE LOWDOWN: It has been 16 months since I last read Rosario+Vampire (Vol. 10), so this is my first experience with Rosario+Vampire: Season II. This second series still features beautiful compositions done in a sharp graphic style. The girls are still pretty and there is enough innuendo, teasing, cleavage, and panty shots to appease the shonen-loving horndog. More than anything, this is still a fun series to read. I judge its success by the fact that when I read the last page of any volume, I'm usually ready to start the next volume.
POSSIBLE AUDIENCE: Readers who like shonen high school comedy can still find it in Rosario+Vampire: Season II.
A-
Last Updated: August 31, 2023 - 08:12