Rosario+Vampire: Volume 10
By Leroy Douresseaux
October 29, 2009 - 20:14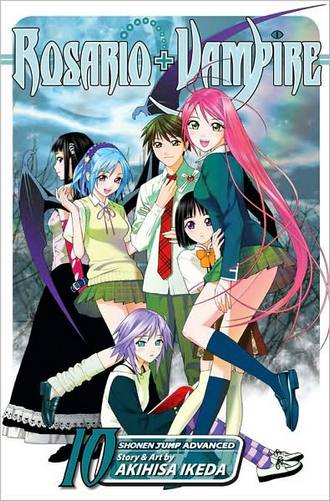 Rosario+Vampire Volume 10 cover image is courtesy of barnesandnoble.com.
Rated "T+" for "Older Teen"
After having failed to gain admission into any high school, 15-year-old Tsukune Aono ended up at Yokai Academy. However, it isn't until the first day of school that Tsukune learns that every single student is a monster. He does make a friend of Moka Akashiya, a teen vampire who loves to sink her teeth into Tsukune's neck because she just loves the taste of his blood. Will Tsukune survive a school where the turf wars aren't between jocks and nerds, but between monsters?
As Rosario+Vampire, Vol. 10 (entitled Magic Mirror) opens, trouble brews on multiple fronts. Kyoko, Tsukune's childhood best pal, is visiting Yokai for the School festival, but it turns out that her visit isn't so innocent. She is in possession of a very dangerous magical item; one that will throw Yokai into utter chaos. And an old nemesis is back for revenge on Tsukune, Moka, and Yokai Academy. Next, Tsukune goes home for a short visit, but he doesn't know that a quartet of determined suitors is also making the trip.
THE LOWDOWN: This volume of Rosario+Vampire offers an exciting conclusion to the "School Festival" storyline. Even more surprising is a smaller story that finds the monster world following Tsukune back into the human world. As depicted in the best of Charles Addams' beloved New Yorker cartoons, the world of the macabre is at its best when juxtaposed with the world of the normal people, something at which this manga series is very good. Although Vol. 10 begins in the middle of a story arc, this is actually a good jumping on point for new readers.
POSSIBLE AUDIENCE: Readers who want the sexy and the scary side of the Shonen Jump Advanced line of manga will want Rosario+Vampire.
B+
Last Updated: August 31, 2023 - 08:12